You definitely cannot go wrong by including some delicious pecan pies on your Holiday table this year. With these best pecan pie recipes, you are sure to leave your guests impressed and satisfied!
20 Delicious Pecan Pie Recipes
Here we have rounded up 20 delicious pecan pie recipes that'll impress all of your dinner guests this holiday season.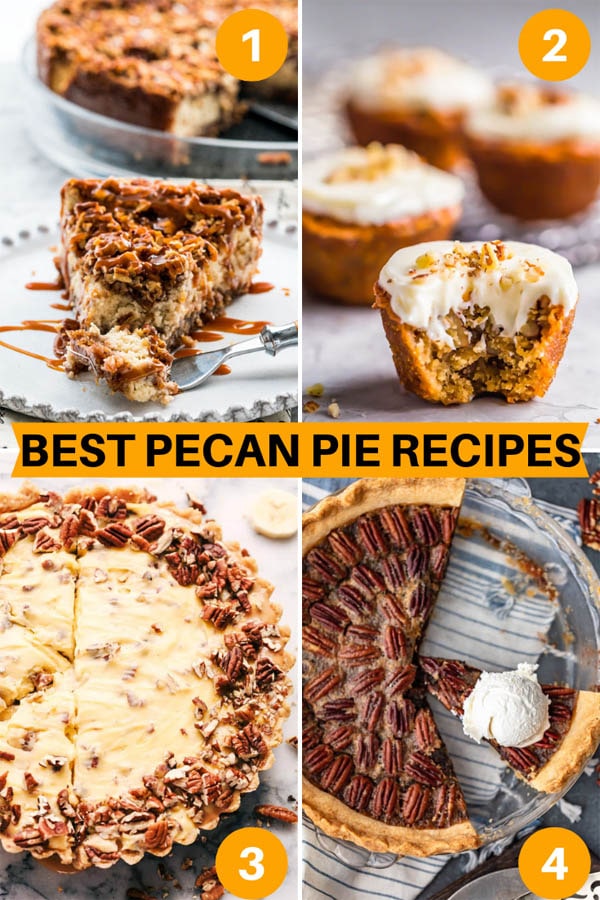 1. Pecan Pie Cheesecake
This Pecan Pie Cheesecake takes two of my favorite desserts and combines them into the only thing that's better than a classic pecan pie. This incredible pecan pie cheesecake is everything a cheesecake should be, decadent, luscious and simply delicious!
From: jocooks.com
2. Frosted Pecan Pie Muffins
These tasty mini muffins are the perfect thing to eat for a quick breakfast, for a snack, or even as a fun dessert. They're so flavorful and taste just like pecan pie in muffin form. These breakfast muffins are so easy to make and taste even better with the cream cheese frosting!
From: thecookierookie.com
3. No-Bake Banana Caramel Pecan Pie
No-Bake Banana Caramel Pecan Pie is made with a shortbread crust topped with caramel and a creamy banana filling with crunchy pecans. This makes one incredible no-bake pie!
From: therecipecritic.com
4. Chocolate Pecan Pie Recipe
This Chocolate Bourbon Pecan Pie recipe needs to be added to your holiday dessert table as soon as possible. Make it for Thanksgiving, Christmas, or any time you want this delicious pie!
From: thecookierookie.com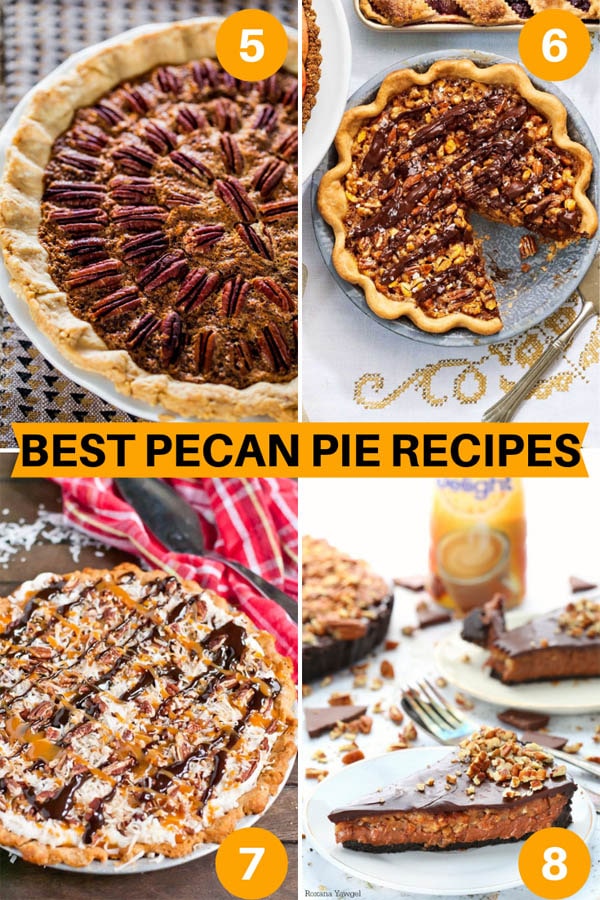 5. Bourbon Pecan Pie
a homemade classic pecan pie spiked with a little bourbon. A decadent, rich and delicious pecan pie, the perfect dessert for your Thanksgiving dinner.
From: jocooks.com
6. Maple-Nut Pie
Dig into a chocolate-drizzled riff on classic pecan pie.
From: countryliving.com
7. Coconut-Pecan Turtle Cream Cheese Pie
This Pecan Cream Cheese Pie begins with a flaky crust filled with a cheesecake-like center and topped with toasted pecans, coconut, chocolate, and caramel sauce. It's what winning at dessert looks like.
From: neighborfoodblog.com
8. No-Bake Chocolate Pecan Pie Recipe
A twist on the classic Thanksgiving dessert, this no-bake chocolate pecan pie features three layers of chocolate goodness and a very generous amount of pecan pie filling. Everyone will rave about it!
From: atreatsaffair.com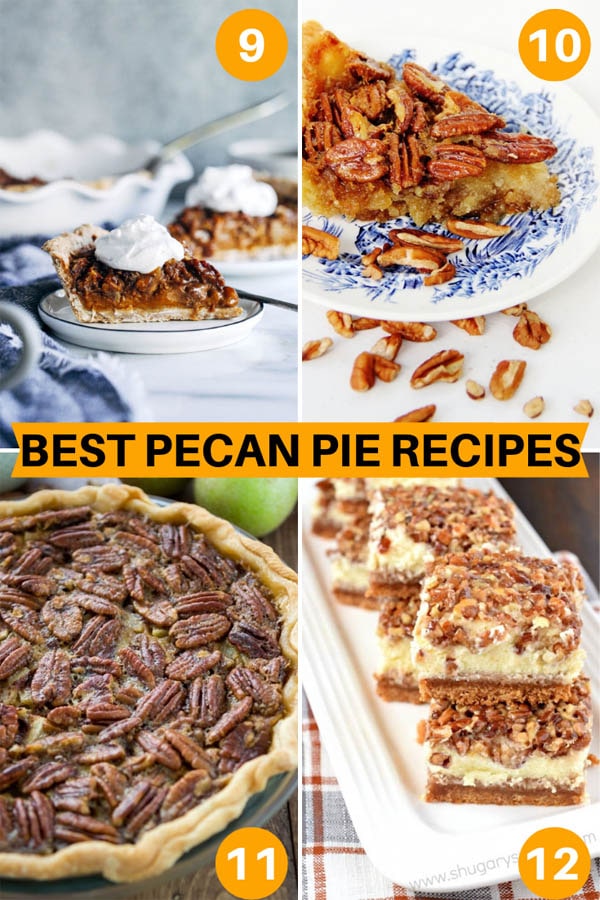 9. Vegan Sweet Potato Pecan Pie
Vegan Sweet Potato Pecan Pie- layered with sweet potato filling on the bottom and a pecan pie top. You won't believe how easy it is to make! (vegan, refined sugar-free, + a gluten-free option)
From: makingthymeforhealth.com
10. Farmhouse Pecan Pie
Try this delicious farmhouse pecan pie recipe for your next gathering. It comes together easily and is a huge hit in our home. All the steps you need.
From: thistlewoodfarms.com
11. Apple Pecan Pie
This easy pie recipe has all the flavors of both apple and pecan pie!
From: crazyforcrust.com
12. Pecan Pie Cheesecake Bars
The layers on these Pecan Pie Cheesecake Bars are incredible! One tasty bite and you'll fall in love!
From: shugarysweets.com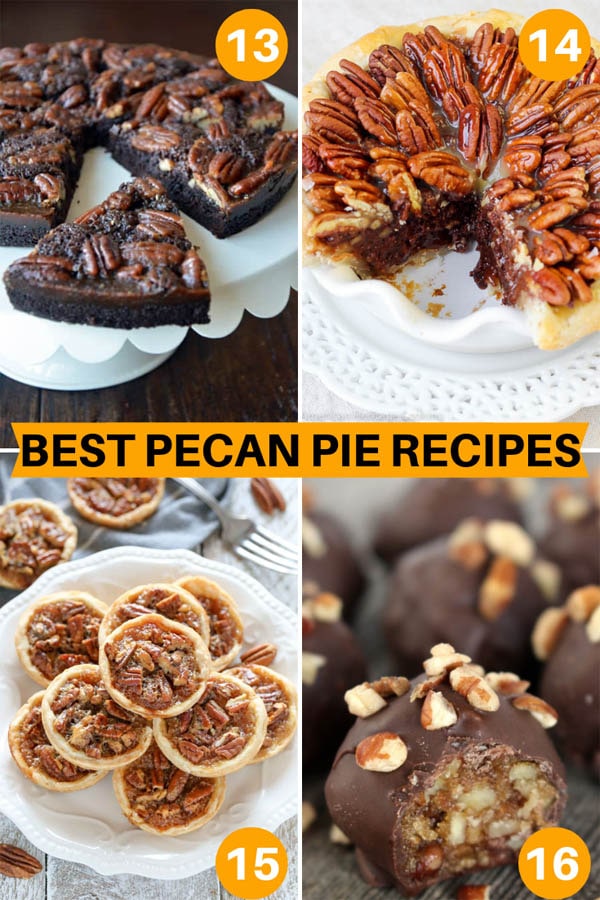 13. Pecan Pie Brownies
So what will it be? A slice of pecan pie? Or a brownie? Good news. There's one less decision to make in life because now you can have both.
From: justataste.com
14. Salted Caramel Chocolate Pecan Pie
This Salted Caramel Chocolate Pecan Pie is rich and decadent! The addition of chocolate is phenomenal with the toasted pecans, and the salted caramel topping really sets it apart!
From: americanheritagecooking.com
15. Mini Pecan Pies
These Mini Pecan Pies are easy to make and can also be made ahead of time. These are the perfect mini treat for Thanksgiving too!
From: livewellbakeoften.com
16. Pecan Pie Truffles
Pecan Pie Truffles are the perfect treat to make this fall. They go great on a Thanksgiving buffet table, as a snack in your lunch, or put them in a cute little box and give them as a hostess gift.
From: glitterandgoulash.com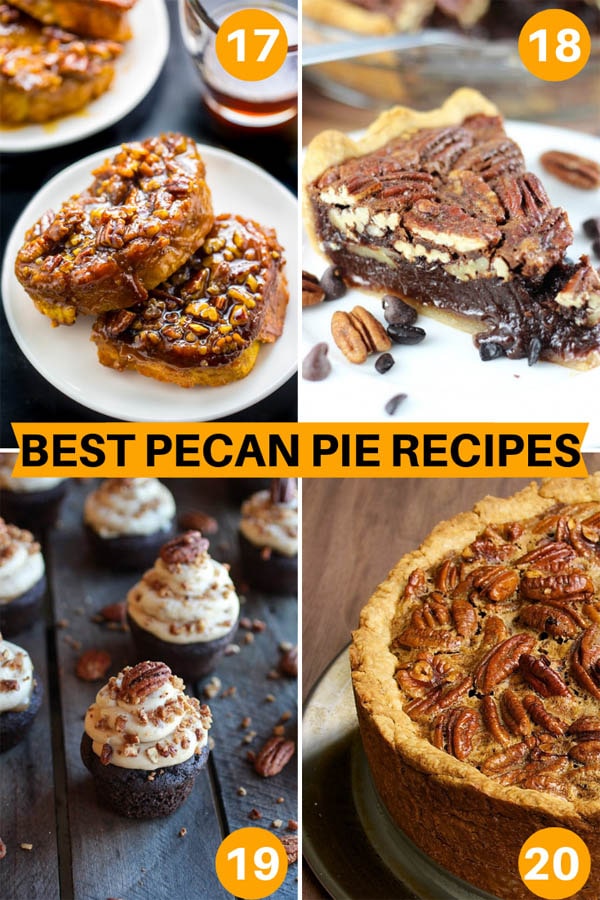 17. Overnight Pecan Pie French Toast
An easy and absolutely delicious recipe for Overnight Pecan Pie French Toast! It's the perfect breakfast or brunch recipe for the holidays!
From: bakerbynature.com
18. Chocolate Espresso Pecan Pie
Traditional sweet and gooey pecan pie gets a makeover with the addition of rich and melty chocolate, and coffee!
From: thegoldlininggirl.com
19. Chocolate Bourbon Pecan Pie Cupcakes With Butter Pecan Frosting
From: halfbakedharvest.com
20. Deep-dish Pecan Pie
Deep Dish Pecan Pie is tall, beautiful, and delicious. It has more than the usual amount of gooey pecan pie filling inside a cream cheese crust.
From: bakeorbreak.com
Enjoyed these best pecan pie recipes? Then pin it for later!
Pin these best pecan pie recipe ideas to your Dessert Ideas or Holiday Recipes boards on Pinterest.
That way you can easily view them later!