What better way to compliment your turkey this year than stuffing? Impress your guests by trying these best Thanksgiving stuffing recipes.
They are homemade and delicious, and whether you like your stuffing to be more traditional, or are open to something more creative, there's something here for everyone!
20+ Best Thanksgiving Stuffing Recipes
Here are over 20 of the best Thanksgiving stuffing recipes for you to enjoy this year.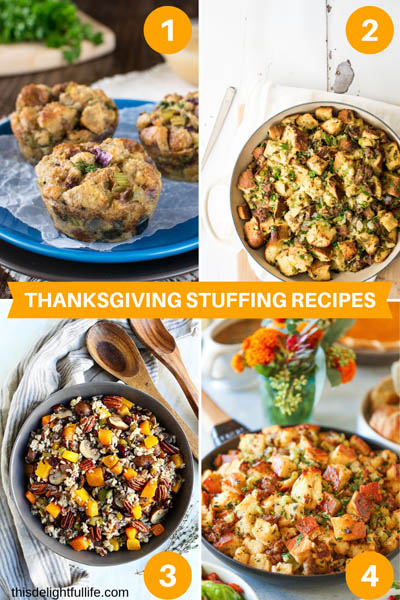 1. Stuffing Muffins
Stuffing Muffins are a fun way to change up a traditional side dish. Baking stuffing in muffin tins is a delicious way to serve it at your holiday dinners.
From: insidebrucrewlife.com
2. Beer Bread Stuffing
Take your Thanksgiving stuffing to the next level with this beer bread stuffing and use beer bread instead! It adds so much flavor and the end result cannot be matched!
From: cookingandbeer.com
3. Wild Rice Stuffing
Wild rice stuffing with butternut squash, mushrooms, dried cranberries, herbs, and pecans is a delicious gluten-free stuffing that is perfect for Thanksgiving, Christmas, or any day!
From: twopeasandtheirpod.com
4. Classic Thanksgiving Stuffing
This will be the only stuffing recipe you will ever need! So much fresh herbs and so buttery. It's simply the best EVER!
From: damndelicious.net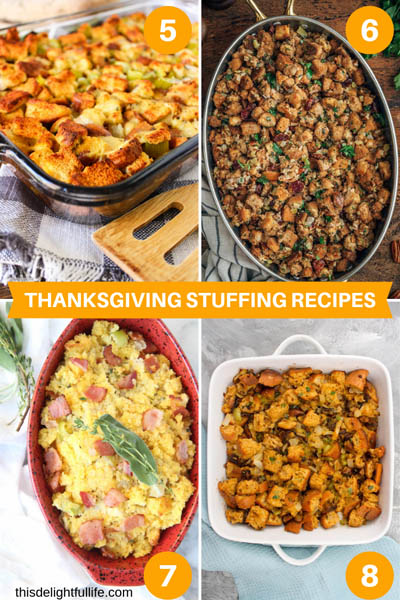 5. Potato Bread Stuffing Recipe
This Potato Bread Stuffing recipe is a must have for all holiday dinners. Savory and mouthwatering, it will have even the pickiest of eaters asking for seconds!
From: domesticallycreative.com
6. Cranberry Pecan Stuffing
This Cranberry Pecan Stuffing blends whole wheat and country croutons with sweet-tart cranberries, toasted pecans, and herbs. Use vegetable stock for a vegetarian Thanksgiving side dish.
From: stripedspatula.com
7. Bacon, Apple, & Cornbread Gluten-Free Stuffing
From: momadvice.com
8. Smoked Oyster Stuffing
This easy Oyster Stuffing is made with smoked oysters and is an easy, affordable, and delicious twist on classic oyster stuffing.
From: champagne-tastes.com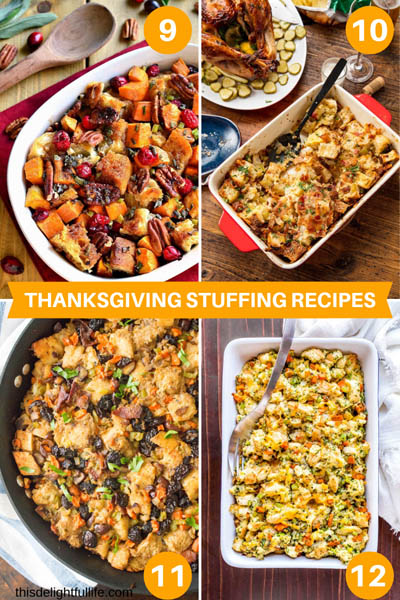 9. Sweet Potato Cranberry Pecan Stuffing
This Sweet Potato Cranberry Pecan Stuffing recipe is a little bit sweet, a little bit savory, and the perfect addition to your Thanksgiving or Christmas table! A whole new take on stuffing!
From: lemontreedwelling.com
10. Beer Cheese Stuffing
Beer nicely cuts the richness of the bacon and cheddar in this stuffing recipe.
From: delish.com
11. Chestnut, Cherry, & Bacon Stuffing
From: yestoyolks.com
12. Cheesy Herb Stuffing
A traditional herb stuffing made with crispy french bread, cheddar cheese, tender onions, celery, and carrots, plus an extra dose of herbs. An easy and cost-effective side dish for any big dinner or event.
From: homemadehooplah.com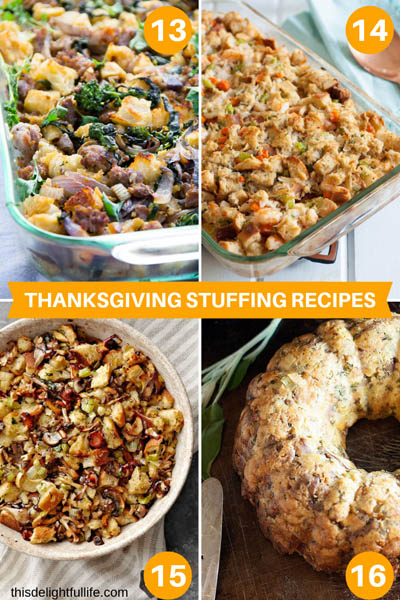 13. Italian Sausage Stuffing With Broccoli Rabe And Parmesan
Italian sausage stuffing with broccoli rabe and parmesan, onions, garlic and a zing of hot paprika, perfect for Thanksgiving.
From: panningtheglobe.com
14. Mid-Atlantic Seafood Stuffing
With a bit of crab and shrimp in each bite, this Mid-Atlantic seafood stuffing (dressing) is a delicious way to bring coastal flavors to the holiday table, or just a great dish to enjoy anytime!
From: goodiegodmother.com
15. Sourdough And Mushroom Stuffing
A lighter-than-expected stuffing. Serve this Thanksgiving favorite with The Perfect Roast Turkey. Assemble the stuffing a day ahead in a buttered dish, cover, refrigerate and bake when needed.
From: countryliving.com
16. Stuffing In A Bundt Pan
From: kimshealthyeats.com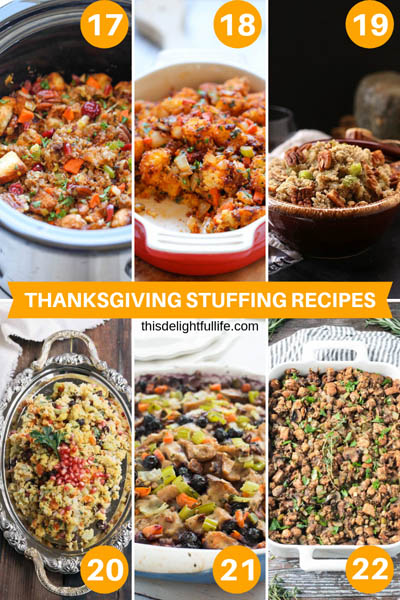 17. Slow Cooker Cranberry Pecan Stuffing
The best and easiest stuffing ever made right in the crockpot, making Thanksgiving prep just that much easier!
From: damndelicious.net
18. Chorizo Cornbread Stuffing
An easy, no-fuss, make-ahead crumbly stuffing loaded with so many amazing flavors and a kick of heat that the whole family will go crazy for! It's so good, you'll want to make this every single year!
From: damndelicious.net
19. Cauliflower Rice Stuffing
This healthy, low-carb cauliflower rice stuffing will convince your Thanksgiving guests to jump on board the cauliflower rice train, while secretly getting them to eat more veggies! Plus it's ready in under 20 minutes.
From: thehealthymaven.com
20. Pomegranate Cornbread Stuffing Recipe
A cornbread stuffing recipe filled with dried fruits, herbs, and fresh pomegranate seeds.
From: thevintagemixer.com
21. Blueberry Thanksgiving Stuffing
This is the perfect side stuffing to accompany the main meat, like chicken or turkey. It's also the perfect vegetarian side dish because it doesn't involve any meat products or broths.
From: brooklynfarmgirl.com
22. Vegan Stuffing With Mushrooms
Traditional bread stuffing with mushrooms, celery, and lots of herbs. Soft, moist, and fluffy. A definite must for your Thanksgiving table.
From: veggieinspired.com
Enjoyed these best Thanksgiving stuffing recipes? Then pin it for later!
Pin these best Thanksgiving stuffing recipes to your Thanksgiving Recipes or Food Ideas boards on Pinterest.
That way you can easily view them later!