Make your holiday countdown even better with these festive Christmas cookies! Fire up your oven and start baking to spread some delicious holiday cheer!
40 Christmas Cookies
These 40 Christmas cookies will get you into the Christmas spirit. Try some of these delicious festive holiday cookies for a sweet treat – and an amazing smelling home!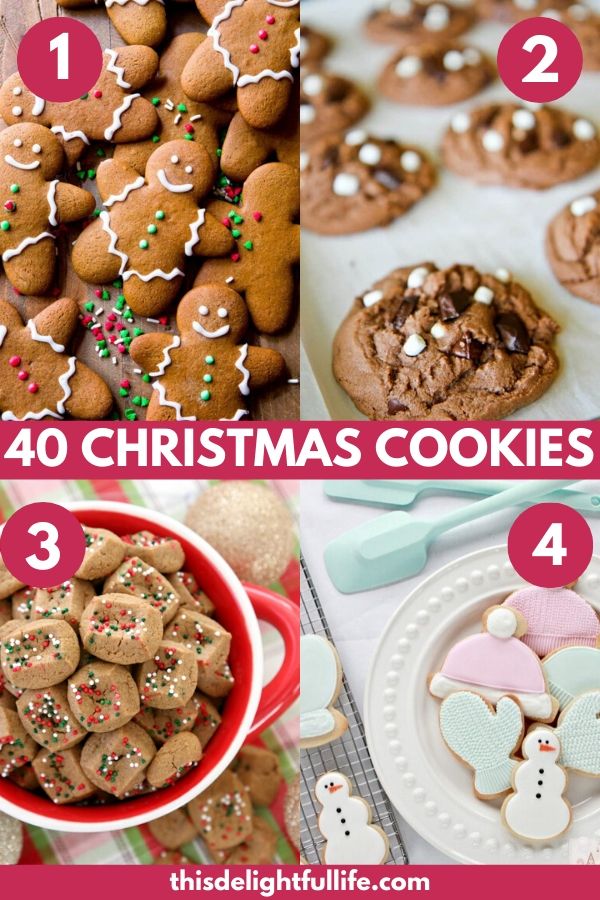 1. Gingerbread Cookies
Soft in the centers, crisp on the edges, perfectly spiced, molasses and brown sugar-sweetened holiday goodness.
From: sallysbakingaddiction.com
2. Hot Chocolate Cookies
These easy Hot Chocolate Cookies are always a hit! Made with real hot cocoa, this is always a popular winter or Christmas cookie and is perfect for cookie exchanges.
From: lovefromtheoven.com
3. Gingerbread Cookie Bites
The simplest gingerbread cookie recipe ever!
Chewy, bite-sized gingerbread cookies that take a fraction of the time to make!
They're perfect for holiday parties and get-togethers!
From: butterwithasideofbread.com
4. Maple Sugar Cut-Out Cookies
From: sweetopia.net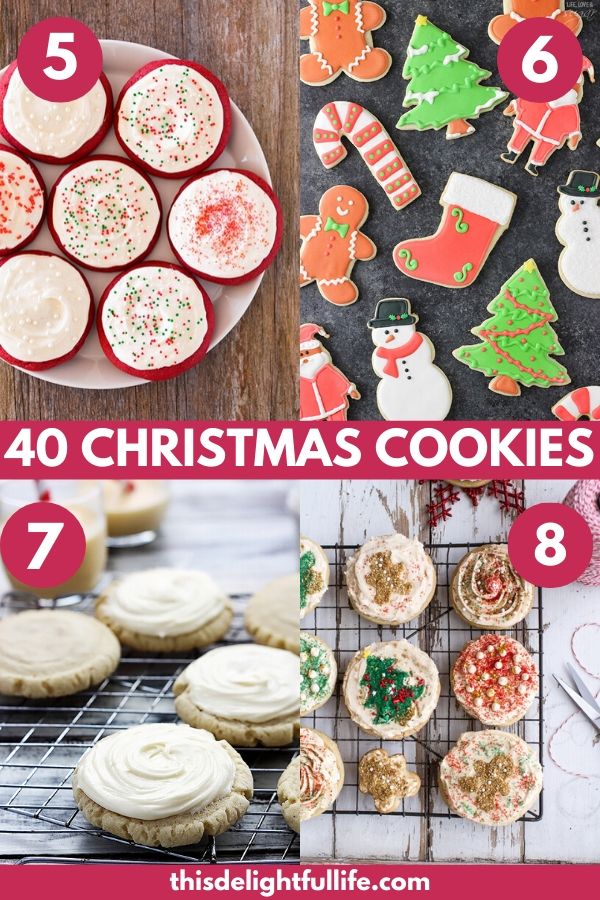 5. Red Velvet Sugar Cookies
A soft and tender sugar cookie with the classic flavor and gorgeous color of red velvet cake.
Finished with a rich and creamy cream cheese frosting.
From: cookingclassy.com
6. Cutout Sugar Cookies Recipe
This easy cutout sugar cookie recipe is the best! It makes soft cookies with lightly crisp edges.
The perfect sugar cookie for decorating!
From: lifeloveandsugar.com
7. Eggnog Sugar Cookies
Soft and moist Eggnog Sugar Cookies with fluffy eggnog frosting!
From: lecremedelacrumb.com
8. Slice 'n' Bake Vanilla Bean Christmas Sugar Cookies
From: halfbakedharvest.com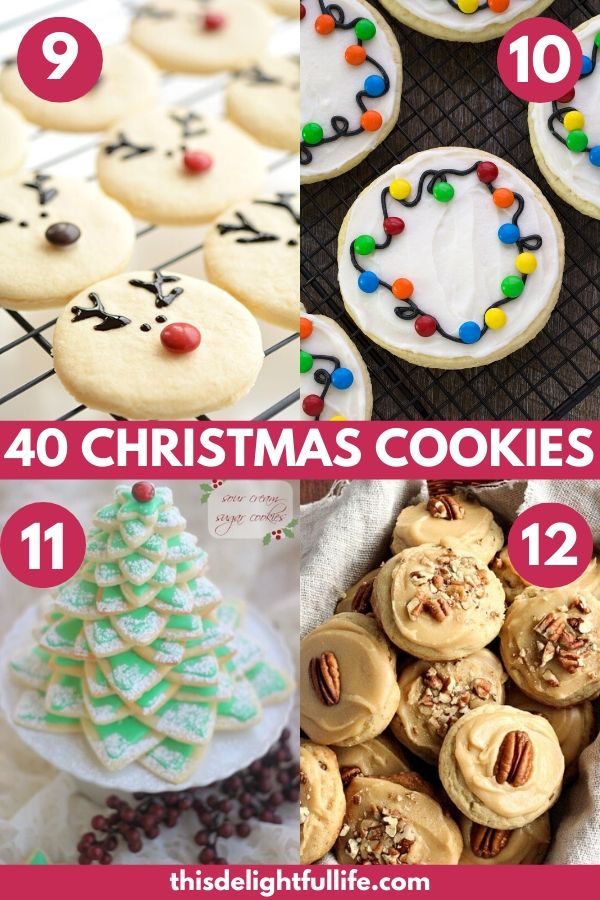 9. Easy Reindeer Sugar Cookies
From: onelittleproject.com
10. Christmas Lights Cookies
Are you looking for an easy decorated Christmas cookie recipe to make with your kids?
Look no further! These homemade Christmas Lights Cookies are the best!
They are fun to bring to cookie exchanges, so bake and freeze extra cookies to share with friends and family.
From: firefliesandmudpies.com
11. Sour Cream Sugar Cookies
This sugar cookie Christmas tree is made with these cookies because they hold their shape well and do not spread during cooking.
The cookies stay pale in color after baking and are very soft and tender.
A royal icing looks lovely and does not stick so the layers can be easily removed.
From: bakerbettie.com
12. Brown Sugar Pecan Cookies Recipe
These Brown Sugar Pecan Cookies are soft, buttery, brown sugar cookies topped with brown sugar frosting and more pecans — perfect for Christmas baking or any day of the year!
From: thereciperebel.com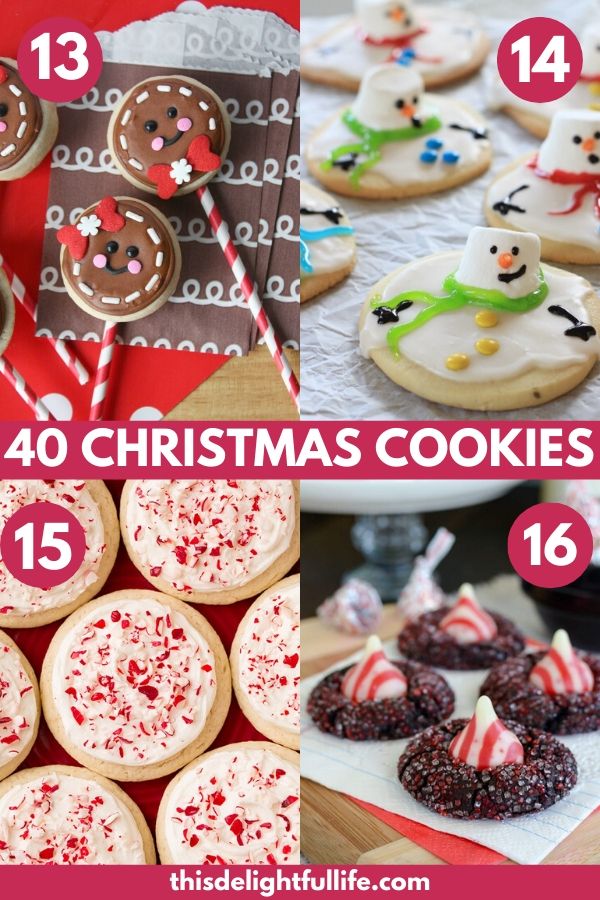 13. Mini Sugar Cookie Ginger Pops
From: munchkinmunchies.com
14. Melting Snowman Sugar Cookies
From: myfrugaladventures.com
15. Peppermint Sugar Cookies with Cream Cheese Frosting
Deliciously soft Lofthouse style cookies with a sweet frosting and tempting peppermint flavor!
From: cookingclassy.com
16. Chocolate Candy Cane Kiss Cookies
These Chocolate Candy Cane Kiss Cookies are rolled in red and white sugar and then topped with a candy kiss.
They will be one of the first cookies to disappear off your holiday cookie tray.
From: insidebrucrewlife.com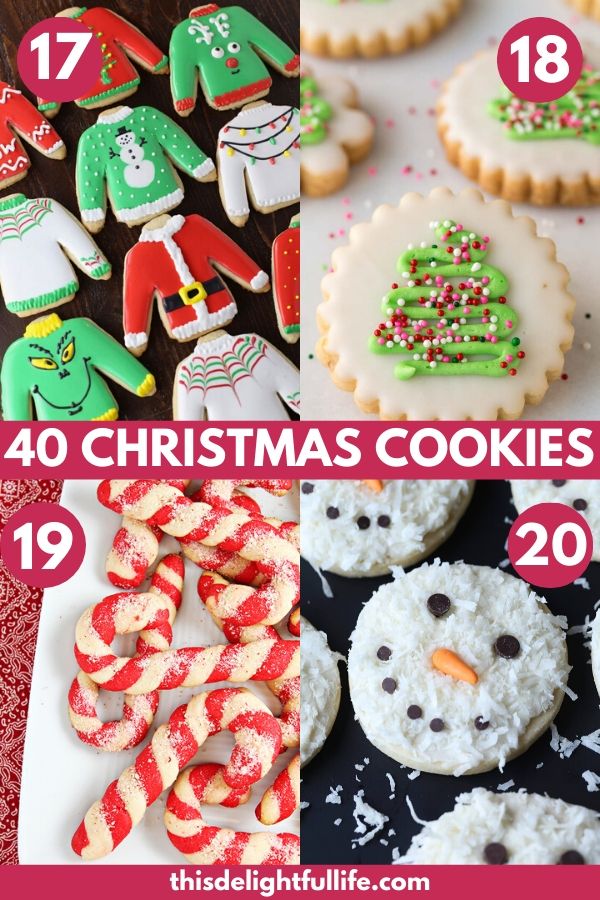 17. Ugly Sweater Christmas Cut-out Sugar Cookies
Sugar Cookies with Royal Icing decorated to look like tacky Christmas sweaters!
From: momlovesbaking.com
18. Christmas Shortbread Cookies
With an easy decorating technique, these delicious, Christmas Shortbread Cookies look like they came from a fine bakeshop!
From: thecafesucrefarine.com
19. Christmas Candy Cane Cookies Recipe
Made from a simple cookie dough recipe, with plenty of festive peppermint flavor, the colorful dough is twisted to look like a real candy cane.
From: homecookingmemories.com
20. Coconut Snowman Cookies
From: cookiesandcups.com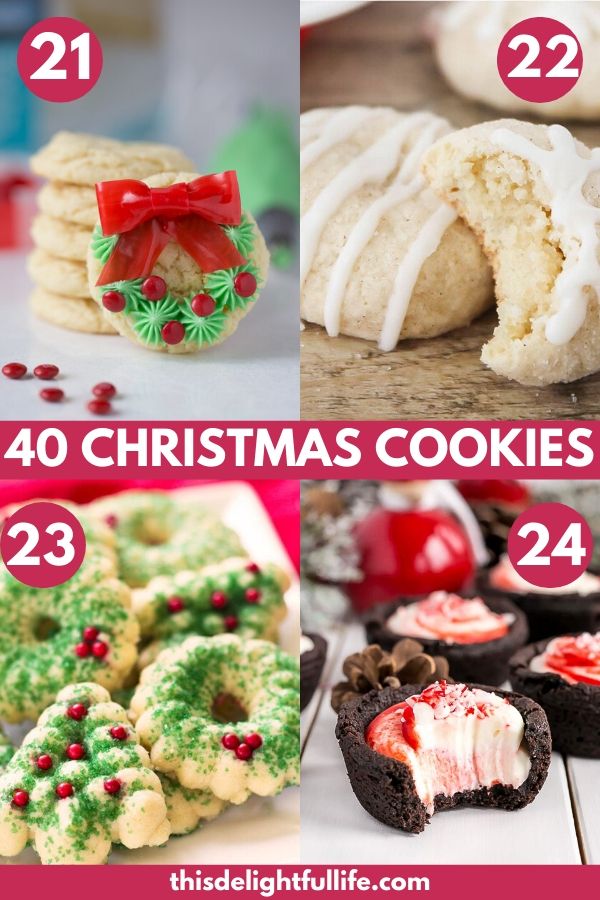 21. Easy Christmas Wreath Cookies
From: yourcupofcake.com
22. Eggnog Snickerdoodles
Made with eggnog and a splash of rum extract in the dough, then rolled in a nutmeg and cinnamon mixture.
From: lilluna.com
23. Holiday Butter Spritz Cookies
Butter spritz cookies are perfect for any holiday, especially Christmas! These tree-shaped cookies are buttery, sweet and easy to make.
From: ifyougiveablondeakitchen.com
24. Chocolate Peppermint Cookie Cups
These chocolate peppermint cookie cups are the perfect make-ahead treat for the holidays.
Dark chocolate cookies filled with a whipped peppermint cheesecake and topped with crushed candy canes!
From: livforcake.com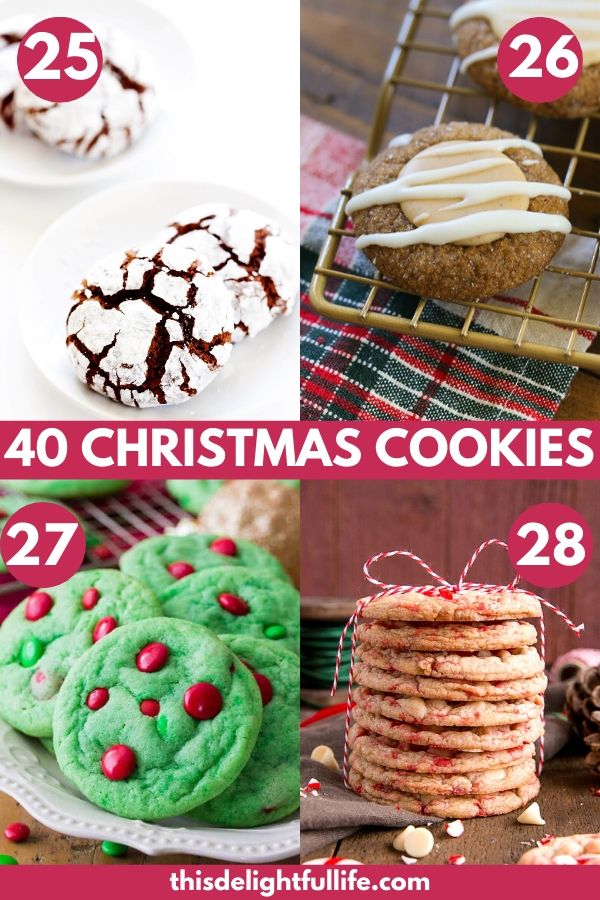 25. Chocolate Crinkle Cookies
This classic Chocolate Crinkle Cookies recipe is fun to make, super delicious, and perfect for the holidays!
From: gimmesomeoven.com
26. Gingerbread Thumbprint Cookies
From: swankyrecipes.com
27. Grinch Cookies
Despite their name, these Grinch Cookies are just about as festive and holiday-friendly as can be!
These soft and chewy cookies are colored Grinch-green and decorated with milk chocolate candy pieces.
From: therecipecritic.com
28. White Chocolate Candy Cane Cookies
These white chocolate candy cane cookies are crispy, chewy, and delicious.
The perfect sweet treat for the holidays!
From: livforcake.com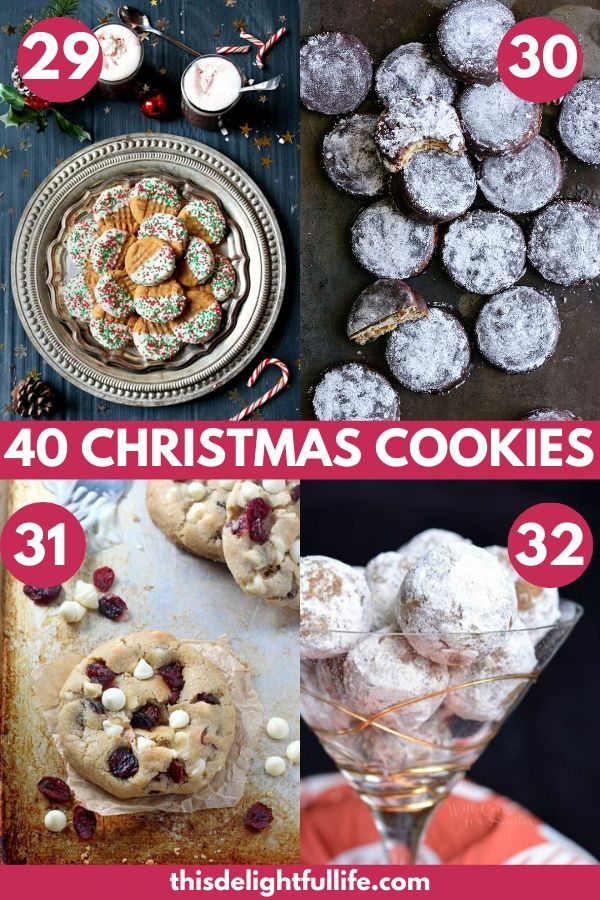 29. White Chocolate Dipped Peanut Butter Cookies
From: thebrunettebaker.com
30. Ritz Cracker Puppy Chow Ganache Cookies
From: kailleyskitchen.com
31. Thick and Chewy White Chocolate Cranberry Cookies
These Thick and Chewy White Chocolate Cranberry Cookies are perfect for Christmas!
Loaded with chewy cranberries and white chocolate chips, these cookies are always a crowd-pleaser!
From: bakerbynature.com
32. Pumpkin Spice Rum Balls
Awesome no-bake cookies specially made for adults.
Cookie balls made with pumpkin spices, Rumchata and rum.
These cookies are prefect for parties or just a cup of evening tea.
From: willcookforsmiles.com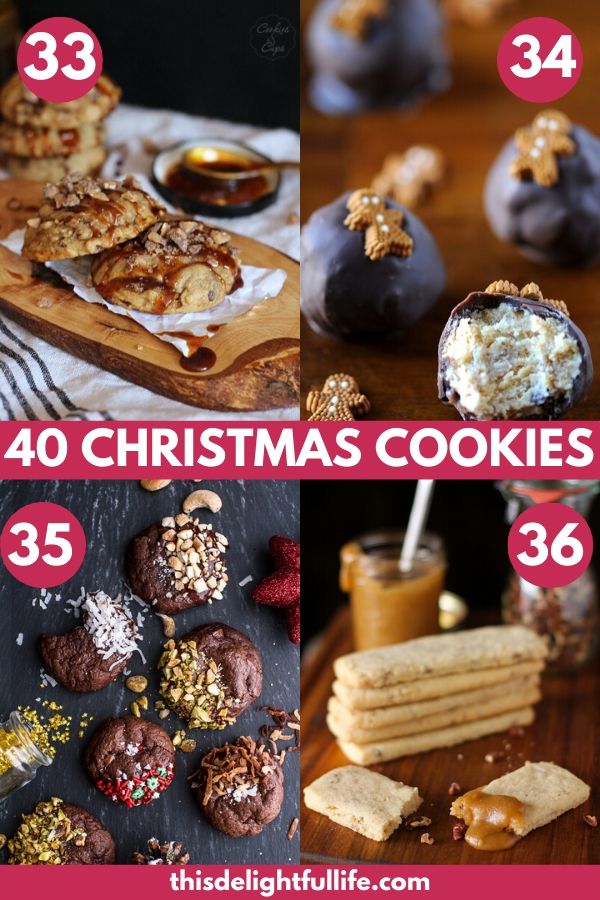 33. Sticky Toffee Pudding Cookies
Sticky Toffee Pudding Cookies are such a fun and easy way to enjoy the classic dessert – sticky toffee pudding!
These toffee bit cookies are packed with dates and sweet caramel sauce.
Treat yourself to a pudding cookie!
From: cookiesandcups.com
34. Gingerbread Oreo Cookie Balls
Easy and fun to make these Gingerbread Oreo Cookie Balls are made with Gingerbread Oreos, cream cheese, and milk chocolate.
From: sweetrecipeas.com
35. Triple Chocolate Truffle Cheesecake Cookies
From: halfbakedharvest.com
36. Toasted Pecan Shortbread With Spiked Toffee Sauce
From: willowbirdbaking.com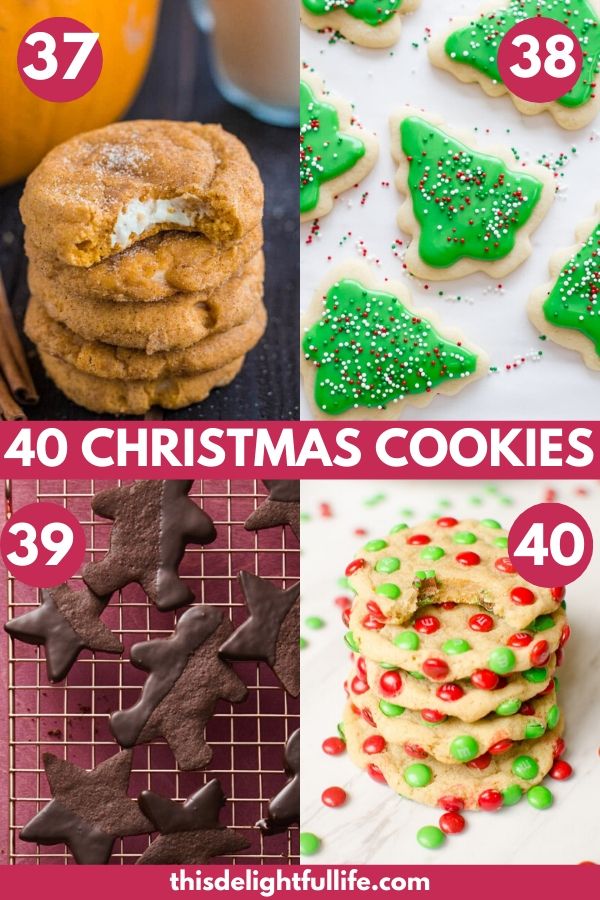 37. Pumpkin Cheesecake Snickerdoodles
Delicious soft and puffy pumpkin snickerdoodles with a surprise cream cheese center.
From: therecipecritic.com
38. Perfect Frosted Tree Sugar Cookies
Looking for the perfect sugar cookie recipe for cutouts?
This is it! Delicious, mildly flavored, and they don't spread in the oven!
From: wholefully.com
39. Mocha Men and Star Cookies
These chocolate and espresso cookies make the perfect afternoon pick-me-up.
From: goodhousekeeping.com
40. M&M Christmas Cookies
M&M Christmas Cookies are a delicious, chewy vanilla cookie covered in Mini Holiday M&M's.
These easy Christmas cookies are not only festive looking but taste great too.
From: cookingwithkarli.com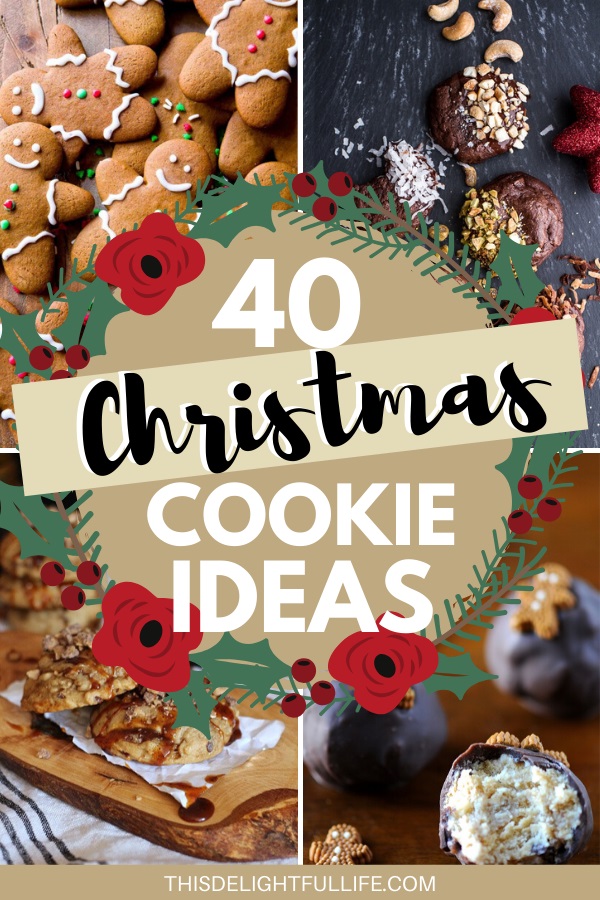 Loved these Festive Christmas Cookies? Pin them for later!
Be sure to pin these 40 Christmas cookies to your Christmas Dessert Ideas or Christmas Ideas boards on Pinterest, that way you can easily view them later!