These no bake Christmas desserts are not only delicious but quick and easy to make too! They are so good that nobody will ever know they took almost no time at all to make!
30 Easy No Bake Christmas Desserts & Treats
Try some of these no bake desserts today and surprise your guests and family alike!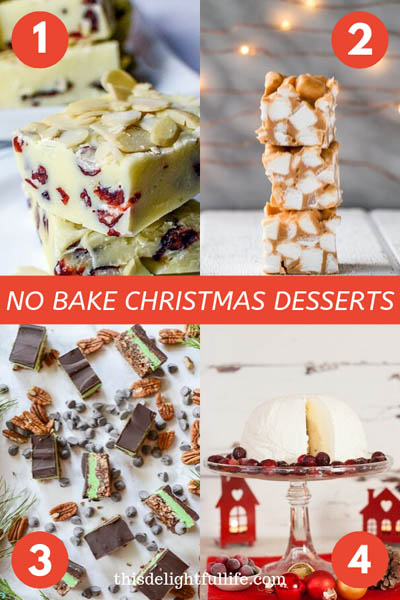 1. White Chocolate Cranberry Fudge
One of the easiest and tastiest dessert recipes to make is fudge. This White Chocolate Cranberry Fudge recipe is no different!
From: dancingthroughtherain.com
2. Butterscotch Peanut Butter Marshmallow Squares
Butterscotch Peanut Butter Marshmallow Squares are a quick and easy no-bake festive treat! Made in under 15 minutes!
From: mykitchenlove.com
3. Mint Chocolate Creme de Menthe Bars
From: tikkido.com
4. Christmas Pudding Ice Cream Bombe
A quick and easy no churn ice cream version of Christmas pudding. For when you want a change from your usual Christmas Pudding recipe.
From: fussfreeflavours.com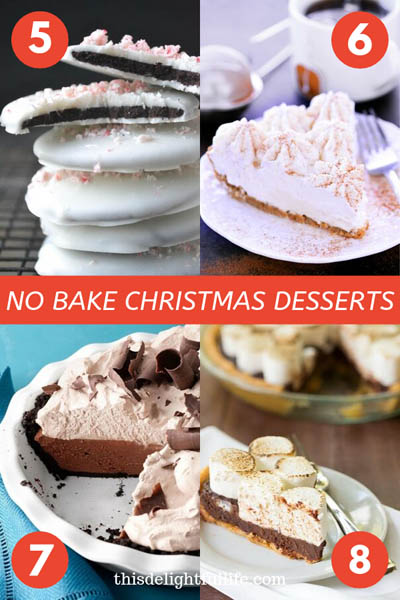 5. White Chocolate Thin Mints
Easy No Bake White Chocolate Thin Mints – just four simple ingredients are all it takes to make these minty copycat Girl Scout cookies- add them to your holiday cookie assortment!
From: theviewfromgreatisland.com
6. Eggnog Cheesecake
This holiday dessert recipe for No Bake Eggnog Cheesecake has a gluten free graham cracker crust.
From: thegunnysack.com
7. Chocolate Mousse Pie
From: womansday.com
8. No-bake S'mores Pie
An easy no-bake recipe for a fabulous s'mores pie – graham cracker crust, chocolate truffle filling and toasted marshmallows on top.
From: browneyedbaker.com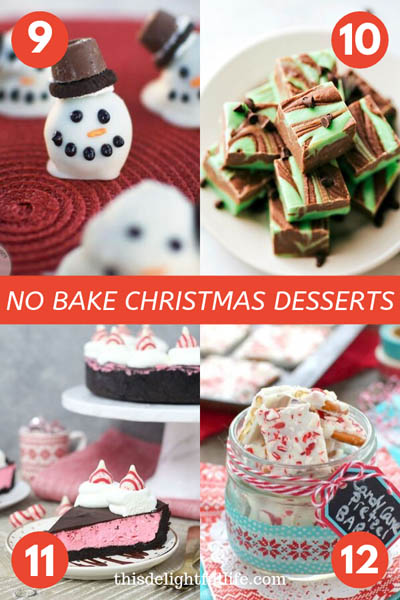 9. Snowman Oreo Cookie Balls
From: cupcakediariesblog.com
10. Chocolate & Mint Swirled Fudge
Milk chocolate and mint-chocolate fudge that is quickly and easily made in the microwave! No candy thermometer needed!
From: chelseasmessyapron.com
11. Peppermint Cheesecake
This No-Bake Peppermint Cheesecake starts with a thick Oreo crust. The peppermint cheesecake filling is topped off with a chocolate ganache and a dollop of whipped cream.
From: beyondfrosting.com
12. Candy Cane Pretzel Bark
Easy to make treats are always a great thing when you have so many cookies and sweets to make during the holidays.
From: insidebrucrewlife.com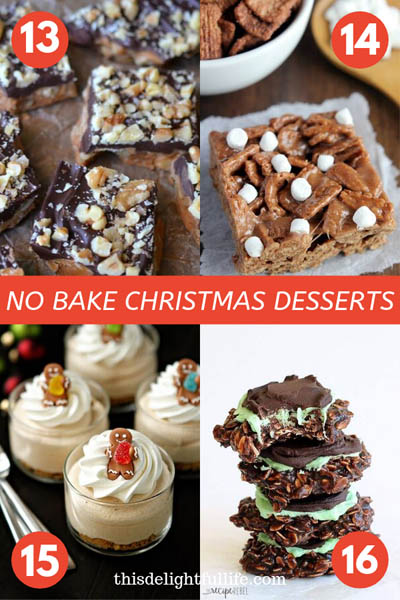 13. English Walnut Toffee
Make it for friends and family, but definitely make extra to squirrel away for yourself!
From: theviewfromgreatisland.com
14. Hot Chocolate Cereal Treats
A fun twist on Rice Krispie Treats! Made with chocolate squares cereal & topped with itty bitty marshmallows. They're absolutely adorable & taste even better!
From: amyshealthybaking.com
15. Gingerbread Oreo No Bake Mini Cheesecakes
From: mybakingaddiction.com
16. Fudgy Mint Chocolate No-bake Cookies
Classic chocolate no-bake cookies topped with mint frosting and chocolate ganache — a twist on my favorite no-bake mint chocolate bars!
From: thereciperebel.com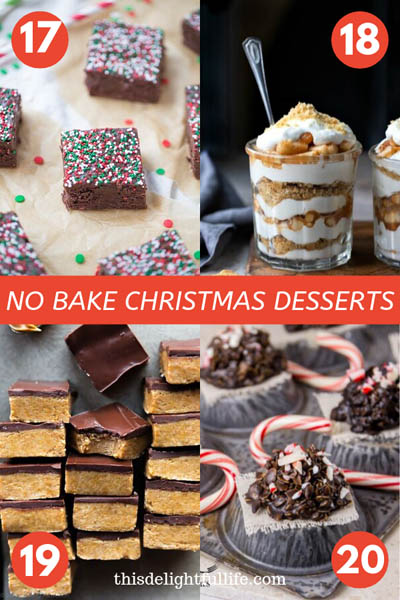 17. Chocolate Peppermint Fudge
Chocolate Peppermint Fudge is smooth, creamy and perfect for the holiday season. Top with Christmas sprinkles for even more holiday flare!
From: thisgalcooks.com
18. No Bake Apple Pie Parfaits
No Bake Apple Pie Parfaits are the easiest apple pie dessert! Made with a few simple ingredients, this easy no-bake dessert is sure to please!
From: ihearteating.com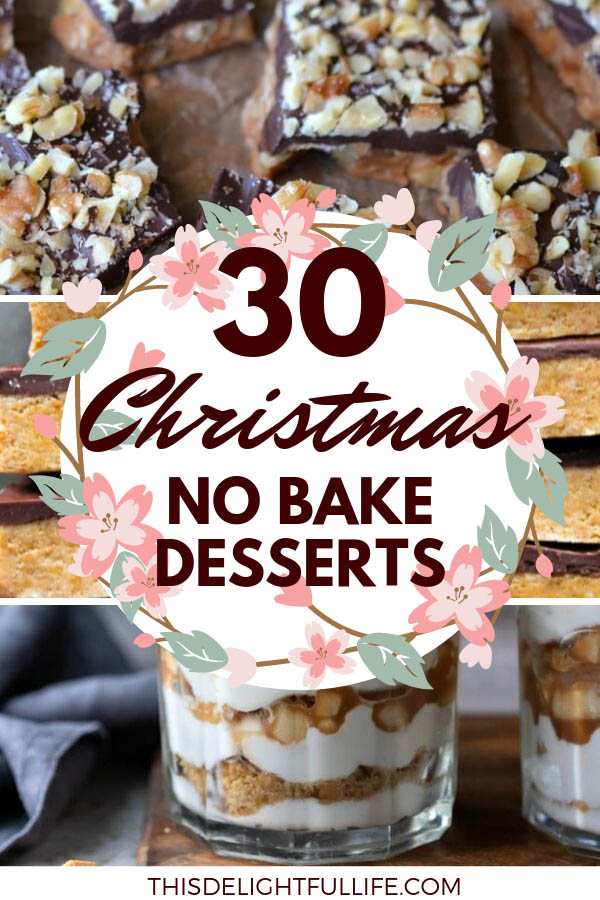 19. Chocolate Peanut Butter Bars
No-bake chocolate peanut butter bars are thick, rich, and decadent. Made from only 5 simple ingredients, these are a delicious treat any time of the year. No oven required!
From: sallysbakingaddiction.com
20. Peppermint Mocha Candy Cookies
From: lifecurrentsblog.com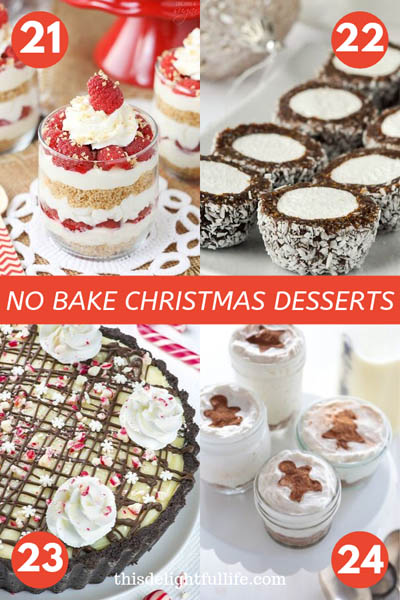 21. Raspberry Amaretto Cheesecake Trifles
These Raspberry Amaretto Cheesecake Trifles have layers of no bake amaretto cheesecake, whipped cream, fresh raspberries, and crushed cookies.
From: lifeloveandsugar.com
22. Marshmallow Roll Cookies
Easy, no-bake & freezer friendly! These cookie confections will be popular with all ages, especially around the Christmas season.
From: rockrecipes.com
23. Candy Cane Pie
This pie filling combo of cream cheese, whipped cream, instant pudding, butter, chocolate chips, and crushed candy canes, make the tastiest homemade Christmas dessert!
From: omgchocolatedesserts.com
24. Eggnog No Bake Cheesecake
It's that time of year, and eggnog is taking over the fall pumpkin obsession! Try these eggnog no bake cheesecakes for an easy entertaining treat that whip up in minutes!
From: countrycleaver.com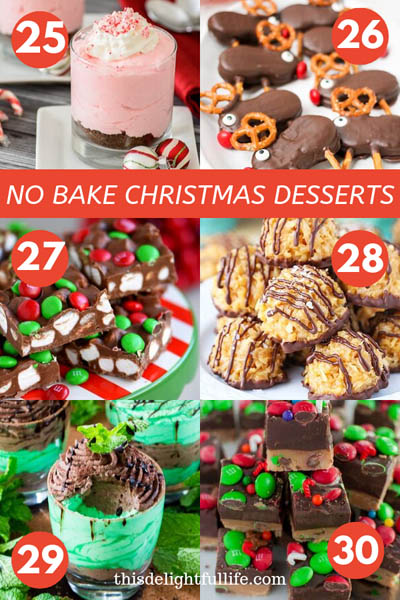 25. Gluten Free Mini No Bake Peppermint Pies
From: almostsupermom.com
26. Reindeer Cookies
Holiday Reindeer Cookies are easy no-bake cookies that the whole family will love! They're fun to make and perfect for parties and cookie exchanges!
From: domesticsuperhero.com
27. M&M's Marshmallow Dream Bars
From: momontimeout.com
28. No Bake Salted Caramel Coconut Macaroons
These Salted Caramel Coconut Macaroons are no bake and so easy to make! The perfect mix of coconut, caramel, and chocolate! I'm in love!
From: lifeloveandsugar.com
29. Easy Chocolate Mint Mousse
Chocolate Mint Mousse made with just a few ingredients, is a flavorful and creamy take on the classic, more labor-intensive mousse.
From: 30minutesmeals.com
30. M&M Chocolate Peanut Butter Fudge
No Fail M&M Chocolate Peanut Butter Fudge comes together in minutes. It's a smooth, rich, double-decker delight, perfect for Christmas parties and gifts!
From: backforseconds.com
Enjoyed these No Bake Christmas Dessert Ideas? Then pin it for later!
Pin these no bake Christmas desserts to your Christmas Ideas or Dessert Recipes boards on Pinterest.
That way you can easily view them later!