One thing I will never take for granted again is storage space (and a washing machine – but that is a whole different story.). I've been living in a really small studio in Leuven, Belgium for a year, and I have learned a thing or two about how to maximize a small space and make the most out of what you have.
Maximize Small Space – Make The Most Out Of A Small Living Space
Down below I've listed some tips and tricks that you can try and implement in order to make the most of a small living space.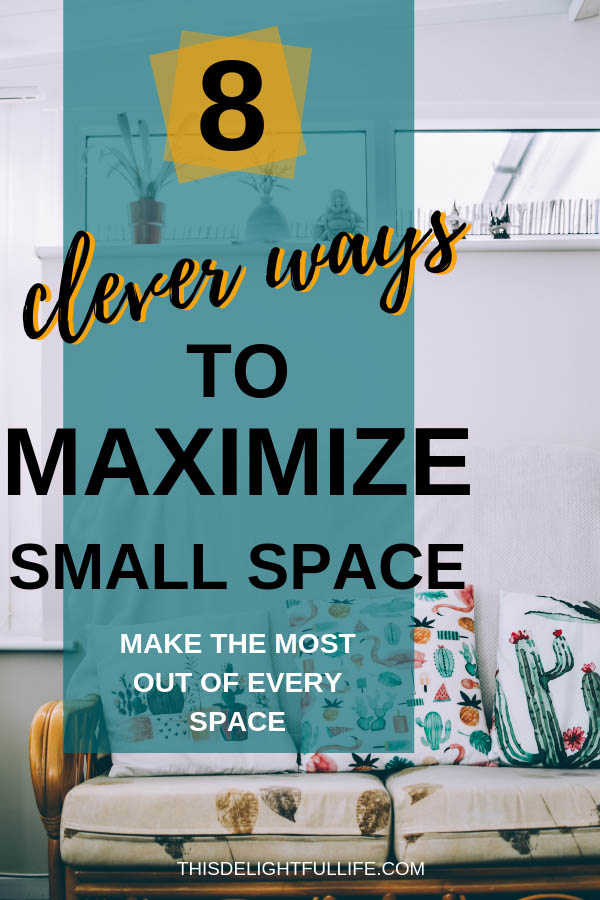 Get Rid of your stuff
Okay so this might be a tip you don't want to hear – but it is actually the one that matters the most. Get rid of things you don't need or things you don't use. You will be shocked at how many of your things you don't actually use and have just gathered over the years. Keep all the essentials and give the rest away to family or friends – or better yet, donate them.
If you don't have a lot of stuff, your small space won't feel overcrowded and messy.
If you can – paint your walls a light color
White walls make a room look and feel much bigger than it is. It will also brighten the space up and make it feel more open. This kind of goes hand-in-hand with the next tip.
Strategically add mirrors
This is probably the oldest trick in the book, but with good reason. Add some big mirrors to your space in order to create the illusion of a much bigger space. Mount them on your walls if possible, instead of using free-standing mirrors, in order to use any floor space for something else.
Stack your washer and dryer
If you are lucky enough to have a washer and dryer, stack them to save space. You can also use a washer-dryer combo to save even more space.
Use multi-purpose furniture
Use furniture that has more than one function – the easiest example is a sofa bed that serves as both a bed, which can then be converted into a couch. Lately, I've seen a ton of clever multi-purpose furniture online – just shop around and you bound to find some.
Use space under your bed
If you don't opt for a sofa bed, a great idea is to get a bed that has built-in storage space underneath it. If that is not an option, and if your bed will allow it, simply use plastic storage boxes and slide them underneath your bed. Even better if they are clear so you can easily see what is stored in them.
Utilize wall space
Floating shelves are great to make use of wall space. You can use them for basically anything – a bookshelf, to display art, display plants and flowers, store your keys and personal items on them etc. They are really versatile and look nice as well.
Utilize door space
Don't forget about the wasted space behind doors. Get hooks on your doors to hang coats, jackets, scarves, and even shoes.
And there you have it, some awesome tips and tricks to maximize any space and make the most of what you have. Do you have any other excellent tips for small spaces? Feel free to let us know in the comments – I'm sure everyone would love to know!
Did you like these ways to maximize small space? Then pin them for later!
Pin these 8 clever tips to maximize small space to your Home Ideas board on Pinterest.
That way you can easily view them later!