From side dishes and appetizers to the main course, we have something on this list for whatever you need for Christmas dinner recipes.
These Easy Christmas Dinner Recipes will take your meal to the next level and make your Christmas dinner amazing.
20 Christmas Dinner Recipes
Christmas dinner and Thanksgiving dinner are easily the two biggest meals you'll serve all year. So why not make it really special if you're going to put in all that time, work, and effort.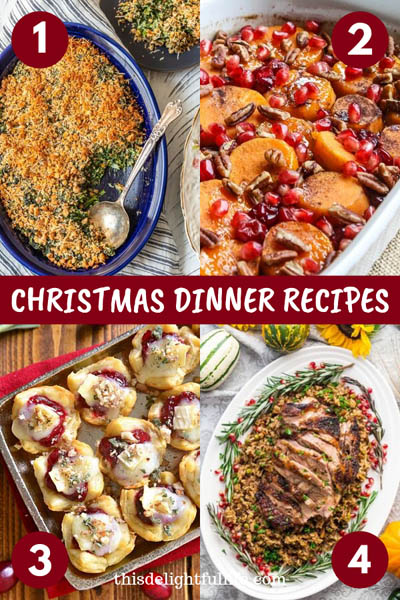 1. Spinach Gratin
Spinach Gratin is a cheesy, tasty side dish recipe perfect for holidays and fall dinners.
From: thecookierookie.com
2. Cranberry Sweet Potato Casserole
Cranberry Sweet Potato Casserole is filled with cranberries, pecan, and pomegranates.
Perfect as a Thanksgiving or Christmas side dish!
From: homemadeinterest.com
3. Chicken Cranberry Brie Tartlets
Chicken Cranberry Brie Tartlets are a quick appetizer that combines all the best flavors of the season in one delicious little bite.
Perfect for all your holiday parties. These tartlets are sure to become a new favorite!
From: lemontreedwelling.com
4. Maple Mustard Roasted Turkey Thighs
These Maple-Mustard Roasted Turkey Thighs are super juicy, delicious and a great alternative for roasting a whole turkey.
From: jocooks.com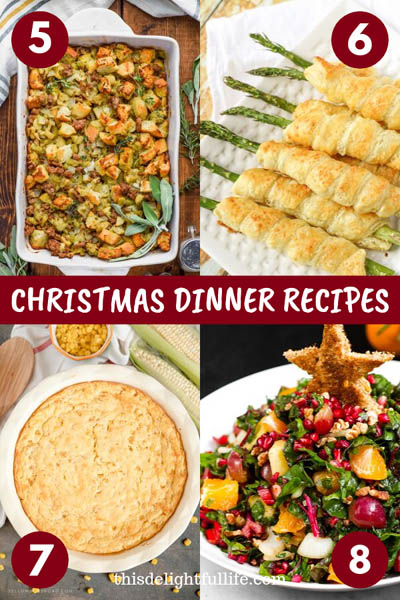 5. Homemade Stuffing
This is literally the BEST Homemade Stuffing Recipe.
It has everything you love about a classic stuffing recipe, celery, onion, apples, tons of delicious flavor, all in a great sausage stuffing recipe.
From: wineandglue.com
6. Asparagus Rolls
Asparagus rolls wrapped in puff pastry, filled with cream cheese and topped with parmesan.
So simple and delicious, it's the perfect side for any meal.
From: lilluna.com
7. Creamy Cornbread Casserole
This is a tender and delicious corn spoonbread that makes an excellent side dish for Thanksgiving or even your favorite bowl of chili!
From: yellowblissroad.com
8. Christmas Tree Salad
From: lunchboxbunch.com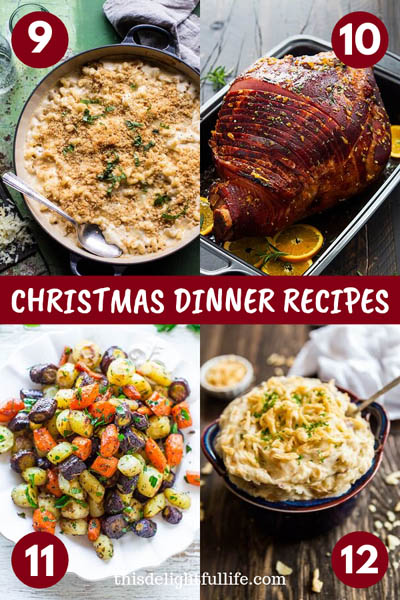 9. Mac And Cheese
From: halfbakedharvest.com
10. Rosemary Citrus Glazed Ham
Juicy oven-roasted Rosemary Citrus Glazed Ham slathered in a sweet and savory rosemary citrus glaze!
Perfect for your holiday meal!
From: lecremedelacrumb.com
11. Herb-Roasted Tri-Colored Carrots
Lightly caramelized around the edges, crisp-tender in the center, and seasoned with rosemary, thyme, and parsley!!
A trusty side that you'll make again and again for holidays or easy weeknight dinners!!
From: averiecooks.com
12. French Onion Mashed Potatoes
French Onion Mashed Potatoes add a savory spin to a classic holiday side dish!
Your family will be fighting for seconds!
From: yellowblissroad.com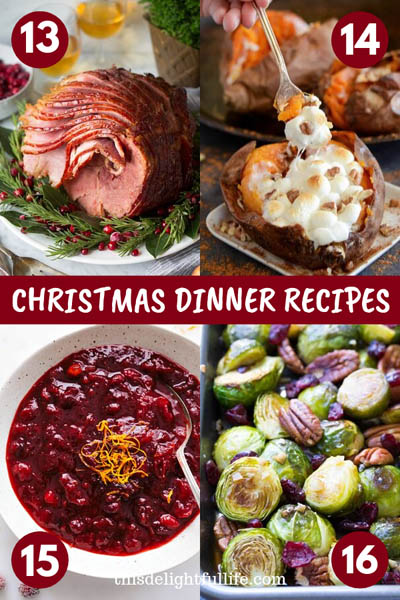 13. Honey Baked Ham
The salty, hickory smoke flavor of the ham is perfectly balanced with a sweet and sticky honey and brown sugar glaze which also has delicious hints of warm spices to compliment it.
From: cookingclassy.com
14. Marshmallow Stuffed Sweet Potatoes
Stuffed sweet potatoes: tender baked sweet potatoes are stuffed with butter, brown sugar, cinnamon, pecans, and marshmallows to create a tasty southern side dish.
From: thenovicechefblog.com
15. Cranberry Sauce
Perfectly tart, sweet, and easy-to-make cranberry sauce! Kick your holidays up a notch this year with this delicious sauce.
From: chelseasmessyapron.com
16. Maple Balsamic Roasted Brussels Sprouts
This Maple Balsamic Roasted Brussels Sprouts recipe is an easy side dish for Thanksgiving or any holiday!
Everything cooks in one pan, with lots of garlic, cranberries, and pecans!
From: kristineskitchenblog.com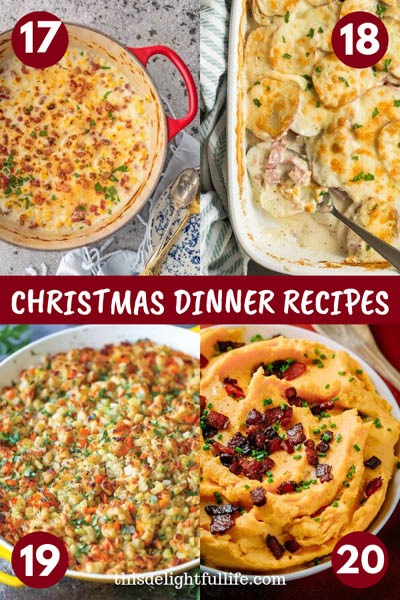 17. Creamed Corn With Bacon, Parmesan, And Mascarpone
From: thecookierookie.com
18. Scalloped Potatoes And Ham
These Scalloped Potatoes and Ham are the perfect make-ahead holiday dinner but they're just as good for leftovers, too! Super creamy, cheesy and comforting.
From: therecipecritic.com
19. Homemade Stovetop Stuffing
Skip the boxed stuffing and try this super EASY stovetop version instead. I promise.
It tastes a million times better!
From: damndelicious.net/a>
20. Mashed Sweet Potatoes
From: natashaskitchen.com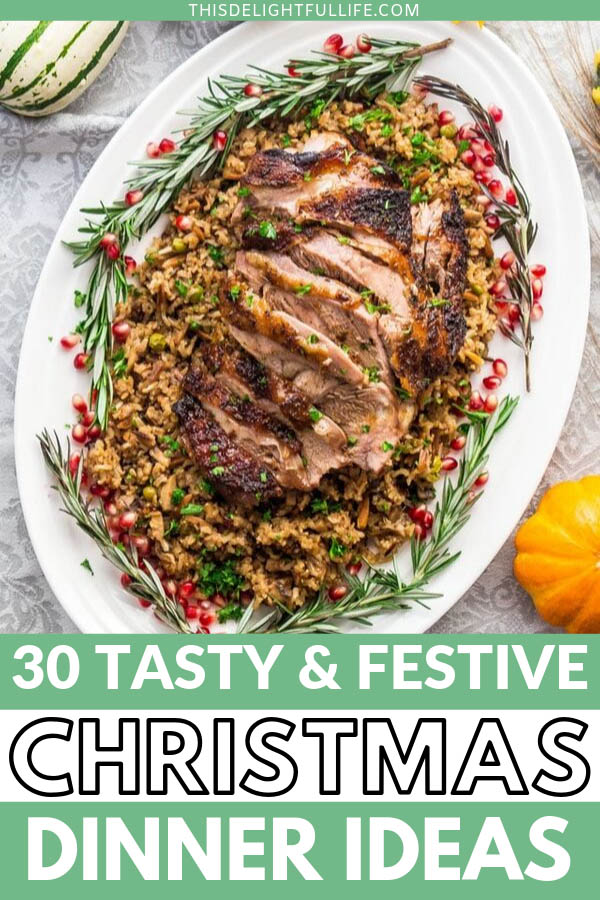 Related Posts
Enjoyed these Christmas dinner recipes? Then pin it for later!
Pin these Christmas dinner recipes to your Food Ideas or Christmas Recipes boards on Pinterest.
That way you can easily view them later!