Dreaming of a white Christmas? Why not create your very own wintery scene with these DIY Christmas snow globes.
These snow globes are perfect for Christmas decor or even a DIY Christmas gift.
DIY Christmas Snow Globes
These snow globes will really make your home a winter wonderland. Plus, making these snow globes are too easy and simple.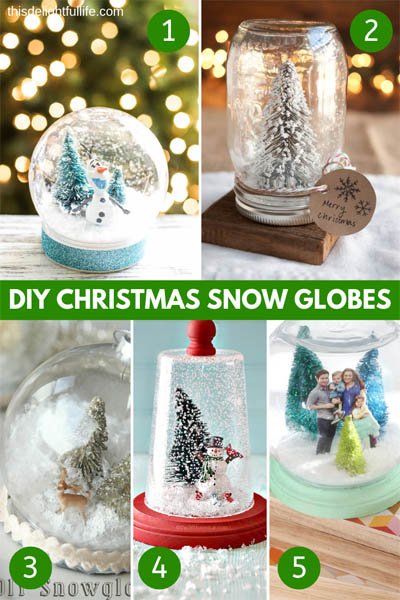 1. DIY Frozen Olaf Snow Globe
DIY Disney Frozen Olaf Snow Globe – a waterless snow globe with miniature trees and glitter snow.
From: apumpkinandaprincess.com
2. DIY Anthropologie Mason Jar Snow Globes
From: simplecravesandoliveoil.blogspot.com
3. DIY Snow Globe Ornaments
You can find tiny trees, animals, and other figurines on eBay or Etsy – there are so many choices out there.
From: thegirlinspired.com
4. Plastic Cup Snow Globe
This adorable Snow Globe is perfect to use as a Christmas decoration as well.
It will take you no time to make it and where can you find a cuter handmade gift for under 5 dollars?
From: the36thavenue.com
5. A Family Portrait Snow Globe
If you love Christmas and crafting, there is no doubt that you have seen tutorials for faux snow globes all over the blog world. Whether they are in a mason jar, a cake plate, or a terrarium, tutorials for faux snow globes are everywhere.
From: akailochiclife.com
6. Peanut Butter Jar Snow Globe
Create your own winter wonderland with an easy-to-make DIY Snow Globe!
From: artsyfartsymama.com
7. DIY Fishbowl Snow Globe
Snow globes are so fun to make and easy too!
There are lots of ways to create a festive DIY snow globe. Like the waterless snow globes, glycerin snow globes, baby oil snow globes, decorative snow globes and even faux snow globes.
Either way, everyone likes to make their own version of snow globes.
From: craftionary.net
8. Winter Snow Globe Jars
The best part about these jars is that they have tons of uses once the snow melts.
You can put them on your countertops filled with flour, sugar, and salt with cute little measuring cup scoops.
From: kellyelko.com
9. Car In Jar Snow Globe
From: masonjarcraftslove.com
10. DIY Mason Jar Snowglobe
From: thecraftedsparrow.com
Enjoyed these DIY Snow Globes? Then pin it for later!
Pin these DIY Christmas Snow Globes to your Christmas Ideas or DIY boards on Pinterest.
That way you can easily view them later!