These 20 Halloween snack ideas are great to make your Halloween party extra spooky and fun!
They are easy, delicious, and spooky of course.
20 Spooky Halloween Snack Ideas
Don't settle for the ordinary party snack of chips and dip – impress with some creative and unique creepy Halloween snacks which will be the talk of the party!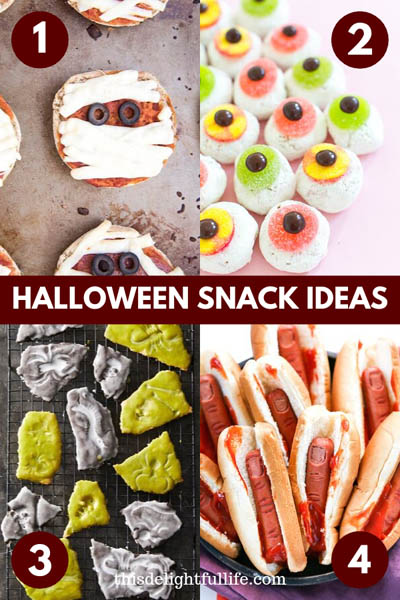 1. Mummy Mini Pizzas
These adorable mummy mini pizzas are so easy to make and are a perfect dinner or lunch for the Halloween season! Great for kids and adults alike!
From: lmld.org
2. Mini Monster Eyeball Donuts
All you have to do to make these little, yummy eyes is place a powdered donut down first, them a sour gummy ring, and then an M&M on top!
From: sugarandcloth.com
3. Fossil Cookies
From: goodhousekeeping.com
4. Bloody Finger Hot Dogs
These bloody finger hot dogs for Halloween are so gross and yet so amazing, all at the same time!
From: saltycanary.com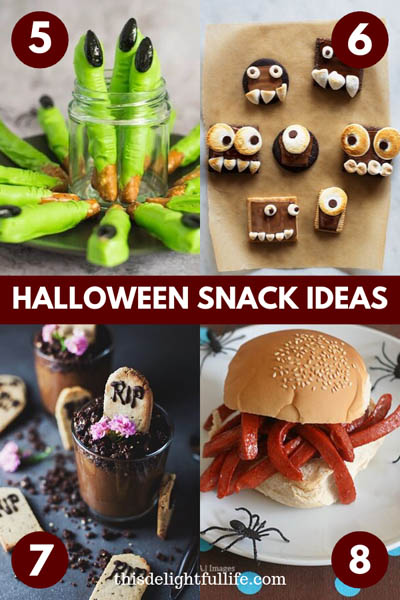 5. Witch Finger Pretzel Rods
Witch finger pretzel rods are one spectacularly spooky sweet-and-salty treat for Halloween or any wizard-themed party.
From: thespruceeats.com
6. Monster S'mores
From: sayyes.com
7. Graveyard Chocolate Mousse Pots
Lemon poppyseed tombstone cookies paired with velvety chocolate mousse with a Nakd bar crumble topping.
A deliciously spooky dessert perfect for Halloween!
From: wallflowerkitchen.com
8. Worm Sandwich
From: thepeachkitchen.com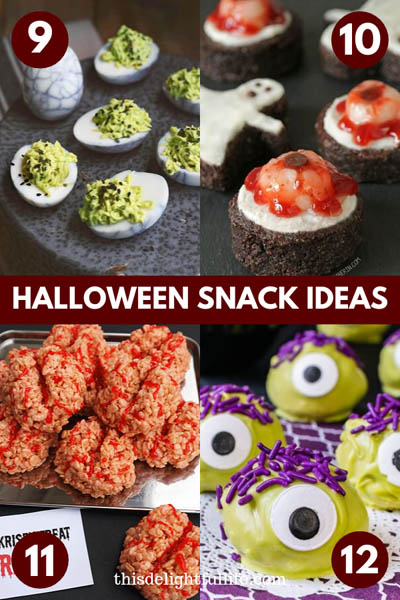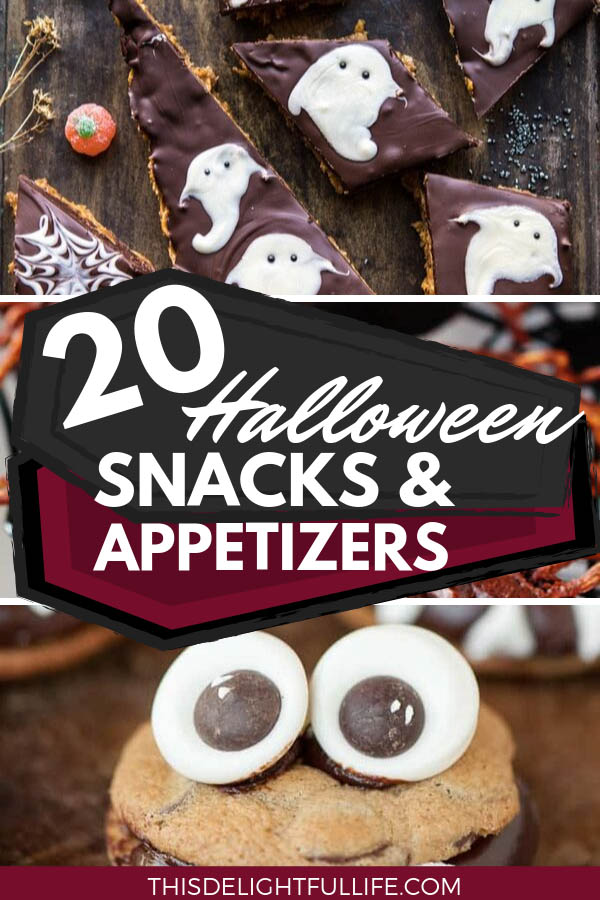 9. Avocado And Wasabi Halloween Deviled Eggs
Add some spookiness to your party spread with these naturally green and creamy avocados and Wasabi Halloween Deviled Eggs, with NO artificial food coloring.
From: familyspice.com
10. Bloody Eyeball Brownies
These bloody eyeball brownies are frosted with coconut butter frosting and then topped with lychees and strawberry jam.
From: texanerin.com
11. Rice Krispy Treat Brains
From: leftbraincraftbrain.com
12. Peanut Butter Monsters
Candy eyes and purple sprinkles make these easy Peanut Butter Monsters a fun no-bake treat to share at Halloween parties.
From: insidebrucrewlife.com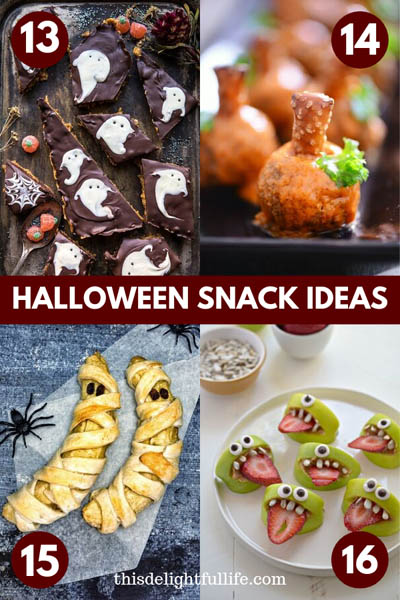 13. Chocolate Peanut Butter Bars
You don't need to be a professional baker to make these deliciously EASY homemade Halloween treats. These bars require no oven time and use just 6 pantry staple ingredients.
From: halfbakedharvest.com
14. Buffalo Meatball Pumpkins
From: thegunnysack.com/a>
15. Mummied Bananas
This spooky dessert will be a favorite this Halloween. Easy, just 3 ingredients, vegan, no added sugar.
From: viedelavegan.com
16. Silly Apple Bites
Make snacking fun by turning regular apples into silly apple bites. Your kids will be begging for more and you won't help but smile at that fun creation you just made with your two hands!
From: forkandbeans.com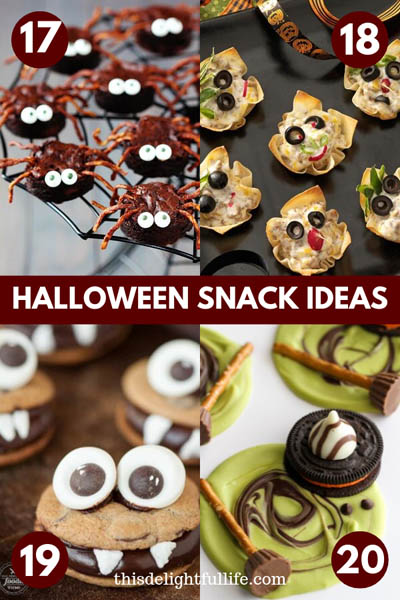 17. Brownie Spiders
Cute little brownie "spiders" will make your Halloween all the sweeter!
From: gimmesomeoven.com
18. Goblin Bites
From: tasteofhome.com
19. Chocolate Monster Cookies
Chocolate Monster Cookies are the best Halloween cookies because they're made with candy googly eyes, chewy chocolate chip cookies, and chocolate ganache.
From: selfproclaimedfoodie.com
20. Melted Witch Bark
All you need to make these fun treats are – green candy melts, mini chocolate chips, pretzel sticks, mini Reese's, Halloween Oreos, and Hershey Hugs!
From: lilluna.com
Related Posts
Enjoyed these Halloween snack ideas? Then pin it for later!
Pin these Halloween snacks to your Halloween Ideas or Recipes boards on Pinterest.
That way you can easily view them later!