Pinwheels make the perfect appetizers! Not only are they easy to make – they look fancy and are delicious as well. Try some of these easy pinwheel appetizers if you want a light but yummy appetizer or snack.
20 Delicious Pinwheel Appetizer Recipes
So whether you call them pinwheels, wraps or roll-ups, these bite-sized appetizers come together in a snap. Whip up a few of these pinwheel appetizers for your next party, or as a quick and easy snack!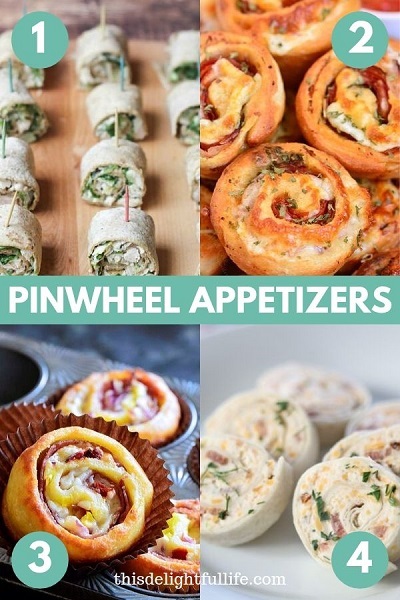 1. Easy Chicken Caesar Salad Pinwheels
From: foodfunfamily.com
2. Italian Sub Pinwheels
Amazing warm pinwheel appetizer to help make any party a success.
These pinwheels are easily made with ham, salami, pepperoni, herbs, and mozzarella cheese all rolled into pizza dough and baked to golden perfection.
In 30 minutes, you will be delighting the guests with this tasty treat.
From: willcookforsmiles.com
3. Salami And Cheese Pinwheels
These Keto Salami and Cheese Pinwheels are even better than the traditional high carb version!
They're nice and crispy on the outside and chewy and packed with flavor on the inside!
This low carb pinwheel recipe is super easy to make and utilizes a traditional fathead dough recipe.
From: theketoqueens.com
4. Cheddar Bacon Ranch Tortilla Pinwheels
These Cheddar Bacon Ranch Tortilla Pinwheels are a crowd pleasure.
Not only are they packed with flavor, but they are so easy to make!
From: inspiredbycharm.com

5. Mexican Tortilla Pinwheels
This recipe for Mexican tortilla pinwheels is two types of cheese, black beans and colorful veggies all rolled up inside tortillas and cut into rounds.
The perfect make-ahead snack or appetizer!
From: dinneratthezoo.com
6. Vegetable Tortilla Roll Ups
Vegetable Tortilla Roll Ups with cream cheese filling spread on tortillas, topped with veggies and cheese.
Slice and serve. Just like veggie pizza!
From: culinaryhill.com
7. Monte Cristo Pinwheels
Inspired by a popular sandwich, these baked Monte Cristo Pinwheels, with sweet ham, tender turkey, tangy Swiss cheese and Triple Berry Fruit Spread, are sweet and savory and will be a hit at all season long!
From: kitchen-concoctions.com
8. Chicken And Avocado Roll-ups
Healthy quick tortilla roll-ups loaded with grilled chicken, avocado, cheese, tomato, and sour cream.
These tasty chicken & avocado roll ups are packed full of flavor and make a great appetizer or snack and are a great way to use up leftover chicken!
From: gimmedelicious.com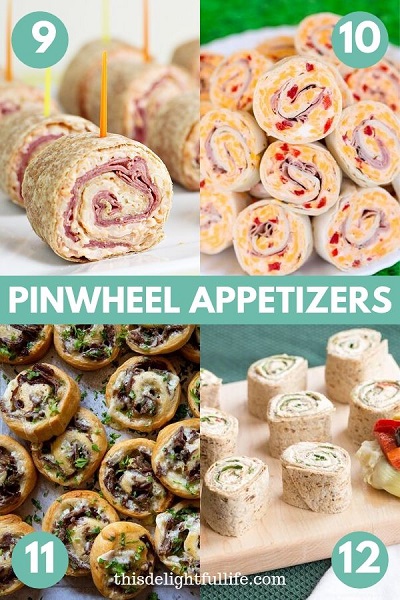 9. Reuben Tortilla Pinwheels
This Reuben Tortilla Pinwheels Recipe is perfect if you are wanting St. Patrick's Day party food, or if you just love all the flavors in a Reuben sandwich.
From: homecookingmemories.com
10. Ham & Pimento Cheese Pinwheels
Cream cheese, cheddar, Parmesan cheese, garlic salt, pimentos, mayonnaise and ham wrapped in a tortilla.
Can make ahead of time and refrigerate until ready to eat.
From: plainchicken.com
11. Cheese Steak Pinwheels
From: realfoodbydad.com
12. Mediterranean Chicken Pinwheels
From: cupcakesandkalechips.com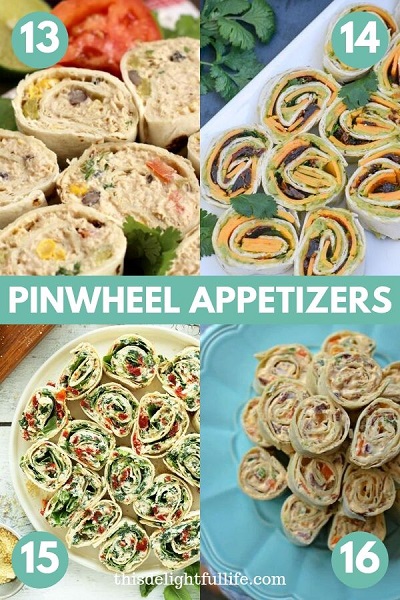 13. Southwest Tuna Pinwheels
After school snacking just got yummier with these Southwest Tuna Pinwheels!
These will be a hit with the kids and the adults! They're perfect for packing in lunch boxes too!
From: idigpinterest.com
14. Chipotle Cheddar Garlic Herb Avocado Pinwheels
Chipotle Cheddar Garlic Herb Avocado Pinwheels are quick, easy, and scrumptious finger food that's full of flavor.
Knowing they can be made ahead of time, or at the last minute, makes them a great option for an appetizer, snack, or even as part of the main meal when you've got hungry guests to feed.
From: 4sonrus.com
15. Sun-dried Tomato And Basil Pinwheels
This recipe is simple, requiring just 8 ingredients and 15 minutes to prepare!
Just stir filling ingredients, spread into a tortilla, roll, and slice!
From: minimalistbaker.com
16. Jalapeno Popper Pinwheel Recipe
This easy Pinwheel Recipe brings out all the great flavors in jalapeno poppers.
It is an easy delicious game day snack or party appetizer and can easily be modified to your liking!
From: smalltownwoman.com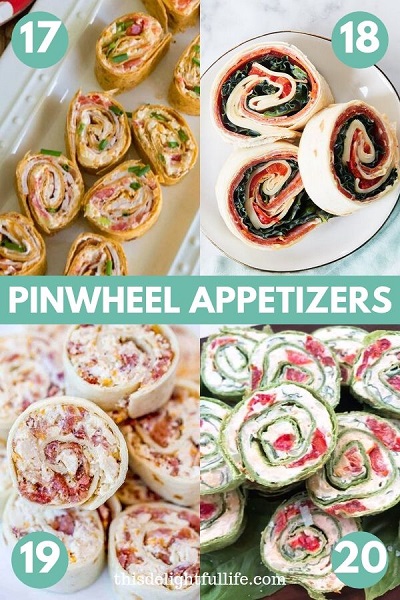 17. Firecracker Cream Cheese Pinwheel Recipe
This spicy firecracker cream cheese pinwheel recipe will put a pop in your patriotic party!
From: peanutblossom.com
18. Italian Deli Pinwheel Sandwiches
Sure, you could throw some deli meat between two slices of bread and call it a day.
Or you could take ten extra minutes and whip up bite-size Italian deli pinwheel sandwiches that'll have you looking forward to lunch all morning long.
From: purewow.com
19. Chicken Bacon Ranch Pinwheels
Chicken Bacon Ranch Pinwheels are an easy wrap your party guests will love with chicken, bacon, cheese and ranch seasoning.
They're delicious hot and cold!
From: therecipecritic.com
20. Caprese Pinwheel Roll Ups
Caprese Pinwheel Roll Ups are inspired by traditional Caprese flavors in a fast and simple appetizer recipe.
From: threeolivesbranch.com
Enjoyed these pinwheel appetizers? Then pin it for later!
Pin these pinwheel appetizers to your Food Ideas or Recipes boards on Pinterest.
That way you can easily view them later!