Not only are these Valentine's day cookies delicious and festive, they are the perfect dessert to bring to a Valentine's Day party, or gift to loved ones!
32 Valentine's Day Cookie Recipes
Get ready to spoil that special someone with these yummy Valentine's Day Cookies. They are easy to make and are the ultimate edible gift idea.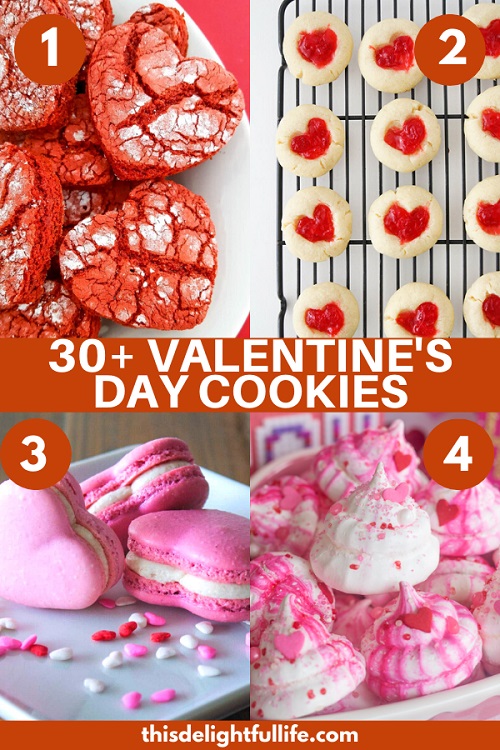 1. Heart-shaped Red Velvet Crinkle Cookies
Valentine's Day just got a little sweeter with this easy recipe for Heart-Shaped Red Velvet Crinkle Cookies using box cake mix.
From: mommymusings.com
2. Gummy Bear Heart Cookies
You could definitely use any color of gummy bear you like, or even a combination of colors for each cookie.
These gummy bear heart cookies would be so fun to customize for any holiday or special occasion!
From: onelittleproject.com
3. Valentine's Heart Macarons
These cinnamon spiced heart macarons are the perfect way to celebrate valentine's day!
From: livforcake.com
4. Valentine's Day Meringue Cookies
From: youngatheartmommy.com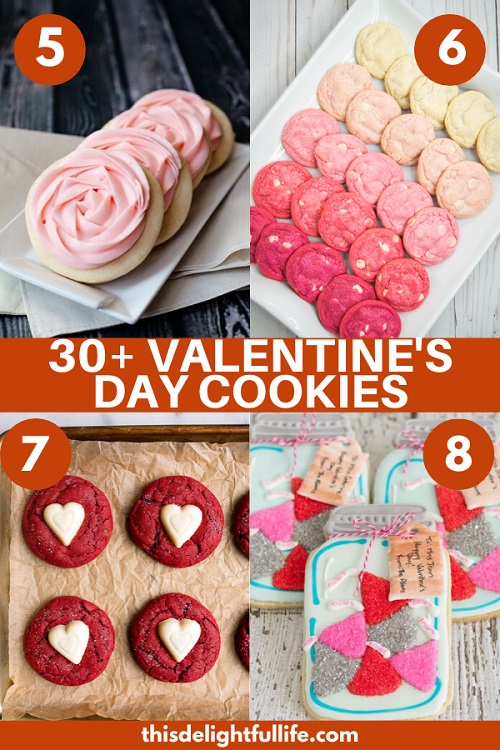 5. Sour Cream Sugar Cookie Recipe
This easy Sour Cream Sugar Cookie Recipe has the perfect balance of sweetness with the added tang of lemon.
Perfect topped with a cream cheese frosting or dipped in chocolate! Freezer friendly and perfect for the holidays!
From: onesweetappetite.com
6. Pink Ombre Valentine's Day Cookies
These aren't your standard sugar cookies either – they are packed with white chocolate chips and made from a classic chocolate chip cookie recipe, making them super soft and chewy.
From: thestarvingchefblog.com
7. Red Velvet Sugar Cookies
When it comes to sugar cookie recipes, this one will make you see red, in a good way!
Red velvet sugar cookies are perfect any time of year and take only 20 minutes to make.
From: dessertfortwo.com
8. Valentine's Day Mason Jar Cookies
Nothing says Valentine's Day like these Valentine's Day Mason Jar Cookies.
They're made with vanilla sugar cookies, royal icing chocolate kisses and hand-written royal icing gift tags.
These Valentine's Day Mason Jar Cookies make the perfect Valentine's Day gift for friends!
From: thecraftingfoodie.com
9. Valentine Pudding Cookies
These Very Valentine Pudding Cookies are the perfect chocolate cookie recipe for Valentine's Day!
They're chocolatey, pretty, and stay soft for days!
From: crazyforcrust.com
10. Chocolate Chip Cookie Dough Valentine's Hearts
Chocolate Chip Cookie Dough Valentine's Hearts are an irresistible cupid inspired dessert.
This edible cookie dough recipe is sweet, dipped in chocolate, and the cutest Valentine's day treat.
Chocolate, peanut butter and cookie dough in the shape of a heart – do I need to say more?
From: omgchocolatedesserts.com
11. Sugar Cookie Bars
From: dessertfortwo.com
12. Chocolate-dipped Strawberry Chocolate Chip Cookies
These Chocolate-Dipped Strawberry Chocolate Chip Cookies are soft + chewy cookies full of freeze dried strawberries and chocolate chunks, dipped and drizzled with dark chocolate.
From: bakerita.com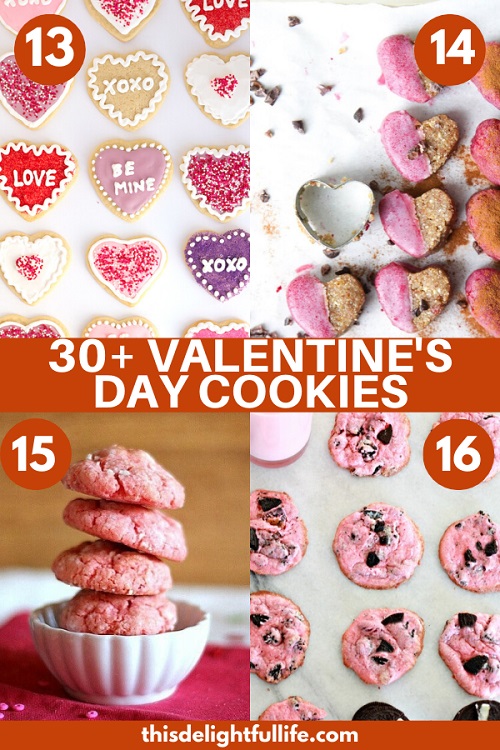 13. Conversation Heart Sugar Cookies
From: freutcake.com
14. Ginger Cookies With Pink Frosting
From: thisrawsomeveganlife.com
15. Strawberry Gooey Butter Cookies
From: cookiesandcups.com
16. Oreo Cheesecake Cookies
From: nestofposies-blog.com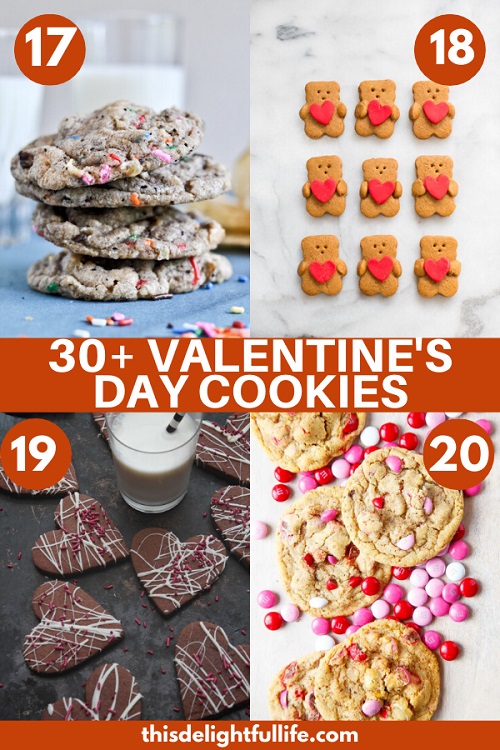 17. Crazy Confetti Cookies
From: howsweeteats.com
18. Bear Heart Cookies
From: hellowonderful.co
19. Brownie Roll-out Cookies
From: shutterbean.com
20. Valentine's Day M&M Cookies
MM cookies: your favorite soft and chewy m&m cookies made with Valentine's Day candies!
From: dessertfortwo.com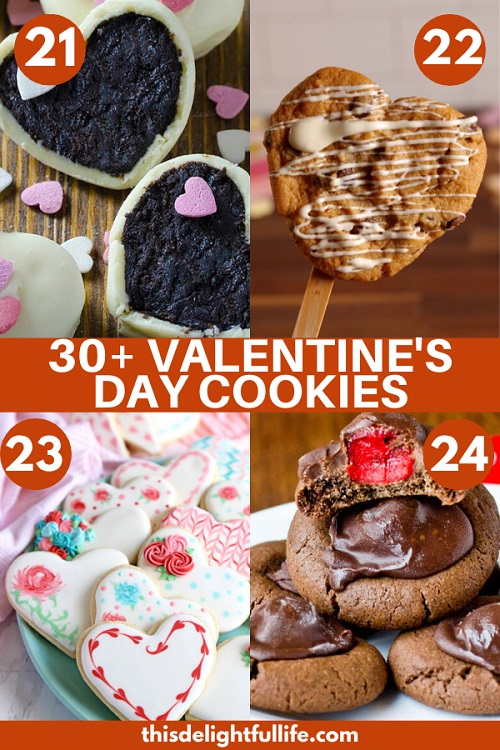 21. Oreo Truffles Valentine's Hearts
Chocolate truffles in the shape of a heart – creamy on the inside, crunchy on the outside!
From: omgchocolatedesserts.com
22. Heart Cookie Pops
From: delish.com
23. Valentine's Day Sugar Cookies
These classic sugar cookies are decorated with royal icing in a variety of gorgeous Valentine's Day designs.
They make wonderful edible gifts!
From: sugarhero.com
24. Chocolate Covered Cherry Cookies
Bite into chocolate covered cherry cookies and find a cherry surprise inside.
Simple from-scratch chocolate cookies with a dollop of melted chocolate on top.
From: tastesoflizzyt.com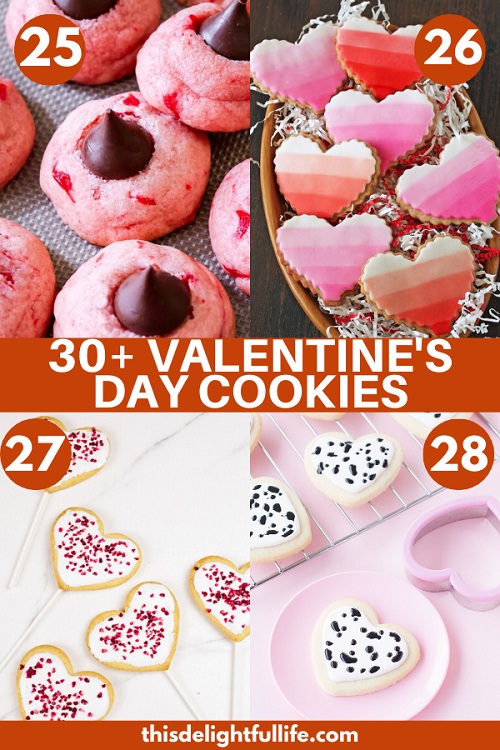 25. Chocolate Cherry Blossom Cookies
These buttery shortbread cookies have so much flavor and taste remarkable with an extra drizzle of semi-sweet chocolate.
From: sallysbakingaddiction.com
26. Brown Butter Heart Cookies
These Brown Butter Heart Cookies are a gourmet twist on sugar cookies!
They have a deep, rich, caramelized taste, and are decorated with beautifully painted fondant designs that are also SUPER easy to make!
From: sugarhero.com
27. Vegan Valentines Day Cookie Pops
These cookie pops not only look adorable but taste so good, despite being free from refined sugars.
With a shortbread cookie base, sugar-free royal icing and freeze-dried raspberries on top!
From: wallflowerkitchen.com
28. Pink Heart Dalmatian Cookies
From: bestfriendsforfrosting.com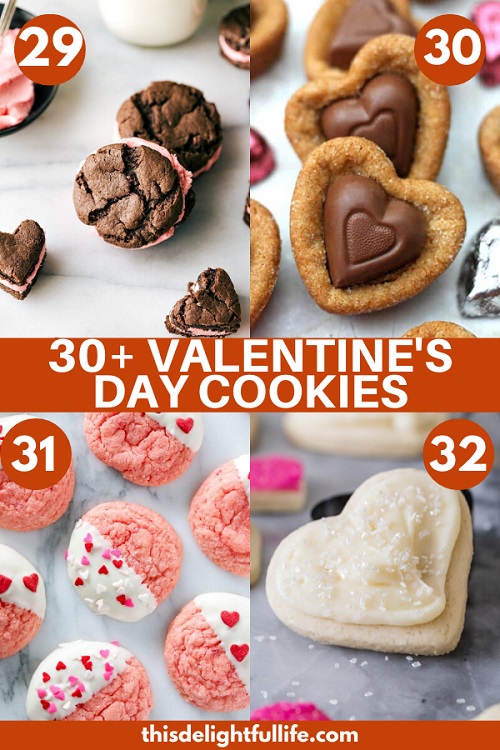 29. Heart-shaped Valentine's "Oreos"
Regular sandwich cookies OR heart-shaped sandwich cookies.
The cookie base has only 4 ingredients and the filling tastes just like a real Oreo!
From: chelseasmessyapron.com
30. Heart Peanut Butter Blossom Cookies
Turn your favorite peanut butter cookies into Heart Peanut Butter Blossom Cookies this Valentine's Day.
From: happygoluckyblog.com
31. Chocolate Dipped Strawberry Cookies
These strawberry cookies couldn't be easier to make.
They start with a cake mix and are finished with a white chocolate dip.
They are super soft, full of strawberry flavor and best of all dipped in chocolate!
From: iheartnaptime.net
32. Cream Cheese Sugar Cookies
Cream Cheese Sugar Cookies are a perfectly soft, melt-in-your-mouth cutout cookie!
Cut them into any shape you please but make sure to top them off with a generous topping of cream cheese frosting!
From: sugarspunrun.com
Enjoyed these Valentine's Day Cookies? Then pin it for later!
Pin these Valentine's day cookie recipes to your Valentine Ideas or Desserts boards on Pinterest.
That way you can easily view them later!