Looking for awesome free date night ideas that don't suck? Here are 20+ free date night ideas for couples who want to keep the romance alive.
20 + Fun Free Date Night Ideas
Dates don't need to be expensive or even cost money to be enjoyable. Throw that misconception out the window and spend some quality time with your partner without breaking the bank.
1. Try Geocaching
Geocaching is a fun scavenger hunt type game – you only need a smartphone!
2. Visit a Food Market
Visit a food market and try some of the various free samples. Yum!
3. Go On A Hike
Enjoy nature with fun hike with your partner. And make it even better – go early to watch the sunrise.
4. Camp In Your Backyard
Enjoy a night in with a twist – camp in your backyard if you have a tent, or if you can borrow one.
5. Go For a Bike Ride
If you own a bike go for a ride around the neighborhood. If you don't have bikes you can easily rent some.
6. Have An At Home Movie Night
Have a movie marathon with all of your favorite movies. And snacks of course!
7. Have a Game Night At Home
Embrace your competitive side and play your favorite board games.
8. Work On A Puzzle
Spend some quality time together by working on a puzzle and enjoying  glass of wine.
9. Make A Time Capsule
Create a time capsule filled with great memories and bury it in your yard.
10. Watch The Sunset
Enjoy the sunset with a picnic in the backyard.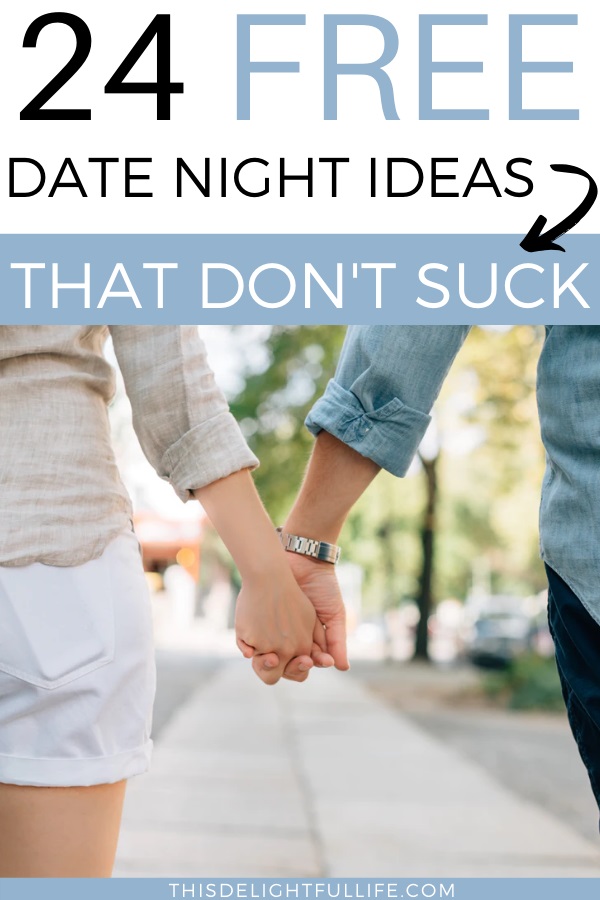 11. Go To Open Houses
Visit some open houses in your area if you love interior design – it is always fun to see how other decorate!
12. Visit The Beach
Spend the day playing in the waves, going for walks, and collecting shells.
13. Spend The Night At A Museum
Some museums offer free admission – usually in the evenings.
14. Have A Picnic At a Park
Pack your favorite lunches and enjoy a picnic under the trees in your favorite park.
15. Be Tourists
Visit all the places in your city you haven't visited yet – or go to the next city over.
16. Visit Flea Markets
Flea markets are full of wonderful treasures and you can have a great time looking at all of the unique items for sale.
17. Take Free Classes
Look for some free classes offered by local stores such as Home Depot.
18. Look For Free Concerts
There are usually outdoor concerts held in the warmer months that are free to attend.
Look at the local community calendar for any free live concerts.
19. Go To a Bar For Trivia Night
Test your common knowledge and go to a local bar and join the trivia nights.
20. Enjoy Outdoor Movie Screenings
Consult the community calendar and look for free outdoor movie screenings to enjoy alongside a picnic.
21. Cook Together
Cook your favorite meal together or try something new -this is a great way to spend quality time together.
22. Visit Animal Shelters
Visit some of the local animal shelters to play with the animals – not only will you enjoy it but the animals will as well.
23. Recreate Your First Date
This one might cost some money depending on your first date – but recreate your first date reminisce about your time together.
24. Built A Fort
Built a fort in your living room and watch movies or play games from the comfort of your DIY fort.
Loved these free date night ideas? Pin them for later!
Be sure to pin these 20+ free date night ideas to your Relationship or Date Ideas boards on Pinterest, that way you can easily view them later!